A Fresh View on a Medical Sphere: IoT Medical Devices and Other Smart Technology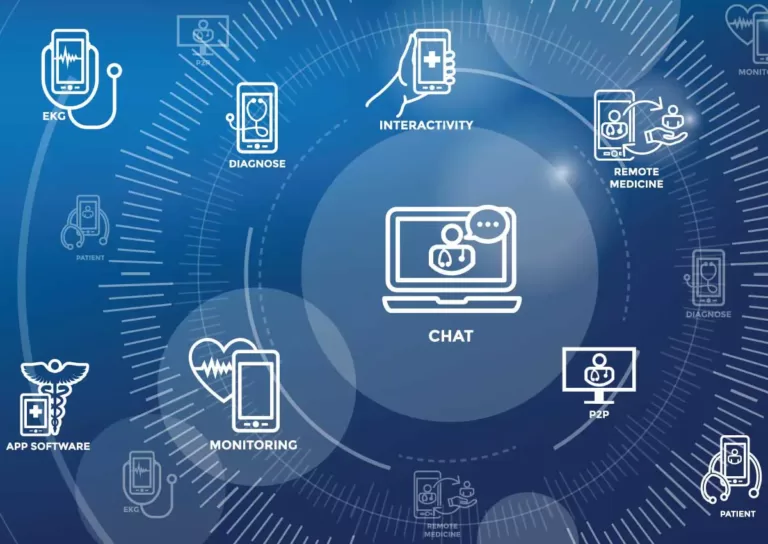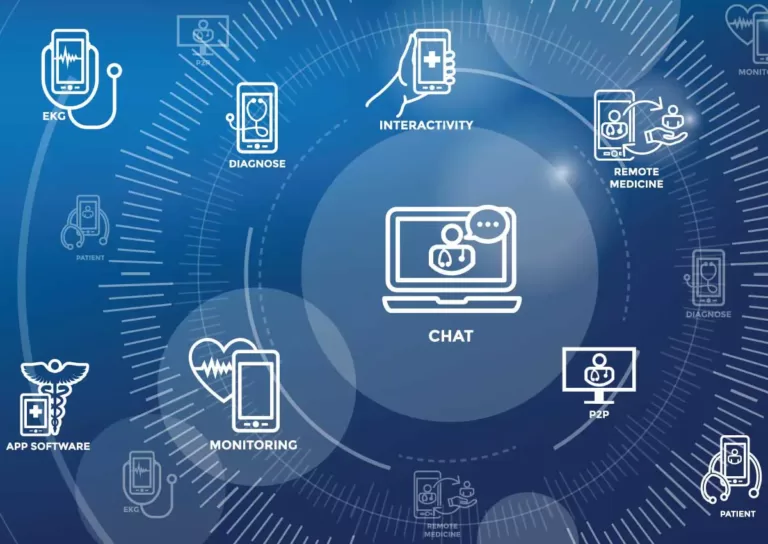 Continuous patient monitoring is the way to improve patient outcomes after complex procedures. It is a statement, which has been established in the healthcare IoT industry for a long time now. The application of the Internet of Things has already been used to monitor health conditions, such as blood pressure, heart rate, respiration rate, and other vital signs. The technology has also been used to track appointments and activity levels as they can send reminders as needed. Constant remote patient monitoring in the healthcare industry has changed the lives of older people, families, and even health providers. Those who are prone to falling or developing other ailments can receive an alert on their wearable device or a health provider's phone if they need immediate attention. IoT solutions in healthcare have changed the healthcare setting from the core and keep doing it, which results in many benefits for health professionals, patients' health monitoring process, and treatment regimens.
The Most Popular IoT Use Cases in Healthcare
The Internet of Things (IoT) is a fast-emerging technology with many applications in the medical field. With its sensor-based capabilities, IoT technology can improve medical data record-keeping, medical device integration, disease prevention, patient care, and health monitoring. One example of the potential for IoT in medical industry is the detection of COVID-19, a deadly viral disease that can kill in less than two weeks if not treated promptly, which is especially dangerous for elderly individuals or people with chronic conditions. With medical IoT devices, doctors can perform regular procedures more efficiently, minimize risks and increase their overall performance. IoT connectivity can be of great use in equipment management, increasing patient engagement, robotic surgery integration, and monitoring of different patients' conditions.
Vital Signs Monitoring
IoT and other smart technology have tremendous growth potential in the medical arena. One example is wearable technology. Many healthcare companies are developing wearable biosensors for wellness, ergonomics, contact tracing, and patient-doctor connectivity. Healthcare is no longer solely for treatment, but rather a way to maintain healthy habits that save healthcare companies money in lost productivity and workers' compensation claims. Wearable devices provide the necessary connection between healthcare professionals and their patients, which has a significant impact on the quality of medical care and patient satisfaction in general.
When medical specialists perform complex procedures, connected inhalers, wearable devices, and other IoT assets will provide medical care teams with necessary knowledge to enhance patient experience and treatment. Besides, IoT healthcare technology can monitor patients' signs when they are in transit from one medical facility to another. IoT in healthcare is what can convert healthcare facility and hospital rooms, in particular, into a better place.
Remote Healthcare Management
IoT-driven healthcare has a positive impact on public health improving patient compliance levels and contributing to cost reduction. IoT healthcare solutions can improve public social management and support enterprises in resuming their production in the healthcare field. IoT applications have proven their feasibility in other industries as well, such as logistics, manufacturing, building management, and others opening new opportunities and ways for development. IoT in healthcare and pharmaceutical sphere has helped the industry resume development in many aspects including management. This new healthcare technology has the potential to transform the way we practice medicine as with digital transformation in healthcare systems it became possible to assign medical practitioners in advance, manage electronic health records, and analyze data remotely. The future of IoT in healthcare is quite promising and will definitely involve all links in healthcare systems.
Medical IoT is equally important for remote patient monitoring and healthcare providers' performance results. Medical data gathered by IoT devices can be analyzed and used for the improvement of equipment management, doctors' ability to perform complex procedures, hospital rooms' maintenance, and overall improvement of the patient experience. With even a single IoT device connected to monitor patients, healthcare providers can reduce infection rates, check on patients for more extended periods of time, and lower costs related to overtime,
Addressing Emergency Issues
The emergence of IoT-enabled devices and other digital technologies can help healthcare facilities and staff deal with patient health data generated, patients' recurring health issues, and other daily stuff. For example, IoT-based respiratory aid equipment is becoming more advanced and useful. The main body is set on top of an intake pipe, which has a defogging mechanism. When the intake pipe stops delivering oxygen, the machine can alert doctors to this. Moreover, it can monitor the breathing status of patients with respiratory diseases and alert emergency staff.
Speaking about other IoT devices for remote patient monitoring, we have to mention glucose monitoring sensors. With such sensors, patients will be aware of their own health conditions and will know when they need to contact healthcare providers. Such application of IoT in healthcare may seem too easy because remote patient monitoring is not robotic surgeries or even connected inhalers but at the same time, these small integrations are way more important. These emerging technologies will continue to grow in use in the medical field contributing to real-time remote monitoring and advanced healthcare solutions, which will improve patient experience in general.  IoT in healthcare industry is no longer about simple IoT device technologies such as fitness tracker or heart rate monitor, it is about real IoT devices, which are certified in medical sphere and respected by healthcare providers.
Which Smart Devices and Smart Health Systems Are the Most Prospectful in Medical Sphere?
Medical IoT devices can help healthcare providers make informed decisions, enhance patient comfort, and make the healthcare environment safer. For example, Internet of Medical Things devices can collect and process healthcare data continuously without the need for the physical presence of the patient or medical professional assigned. Additionally, connected devices can produce reports for physicians and other healthcare professionals about blood glucose level changes, patient's health condition, chronic diseases, and even medical applications used during the day/weekly/monthly. Faster access to data enables more efficient collaboration among specialists, patients, and their family members. With medical devices and sensors, facilities managers and medical professionals can implement protocols based on predefined scenarios, which will facilitate and optimize medical care.
Wearables
With the proliferation of IoT and smart technology, you can monitor your health at a glance with the help of wearable IoT sensors and mobile apps. As a rule, wearable Internet-enabled devices can keep track of your temperature, and heart rate, and notify the assigned doctor of any changes, while collecting additional data on patient condition. These medical devices also provide helpful guidance for young children or the aging population, helping them stay healthy. Wearable smart devices also make it easy to share your data with doctors and family caregivers with a high level of sensitive data privacy, providing a log of your overall health over time.
eBEAT
One example of such a device is TEKTELIC eBEAT, which monitors a patient's vital indications. This device is available as clip-on sensors or patches that are applied to a patient's skin with an adjustable strap. It has a quite long battery life of up to 4 months and continuously measures the patient's body temperature. eBEAT is an ideal solution for monitoring the health of senior residents in their homes and patients at medical facilities. It monitors body temperature, which can be a key symptom of respiratory illness. The eBEAT is discreet enough to be worn at any time without interference in a person's life.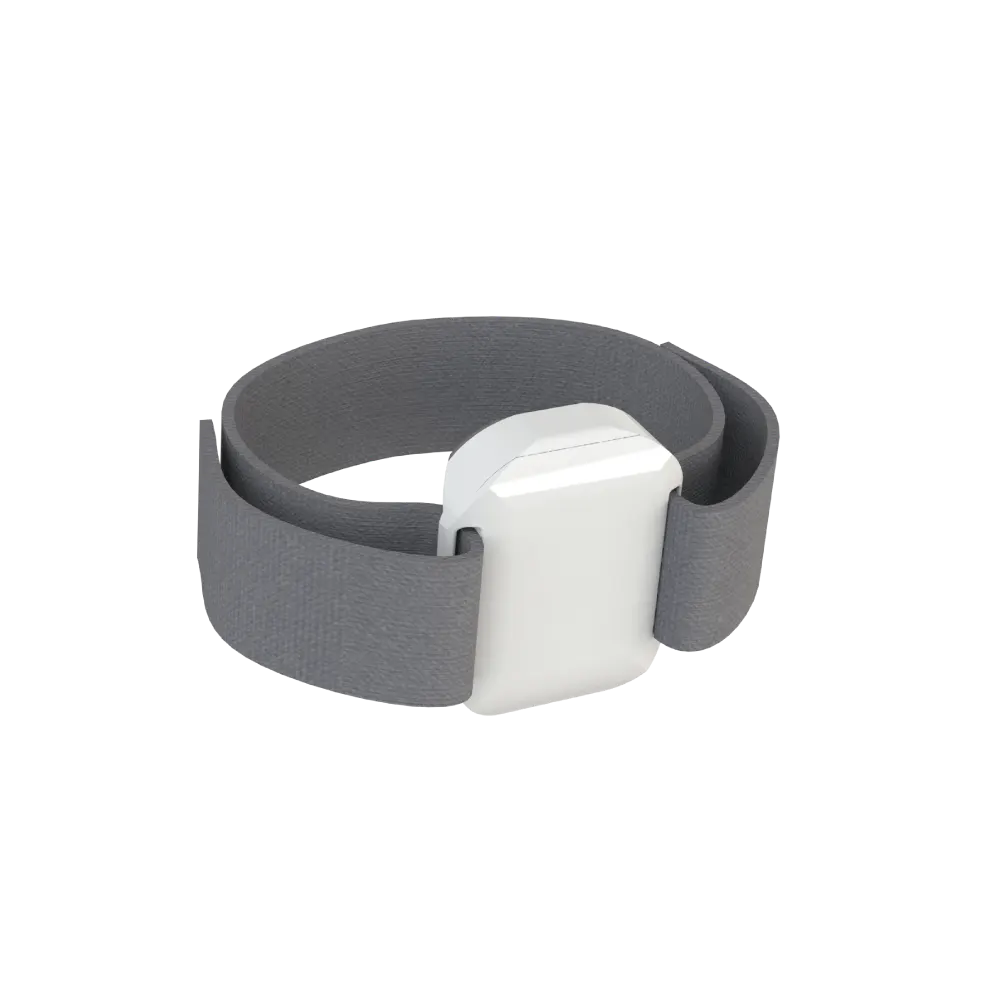 eDOCTOR
One more device from the "wearables" section is eDOCTOR, which monitors six body signs at once in real time. eDOCTOR continuously provides such health indicators as respiratory rate, body temperature, heart rate, chest expansion, and body position, and it has a cough and sneezes detection. The role of sensors in IoT medical and healthcare applications is huge as they can both simplify doctors' work and ensure patients' safety. As an added benefit, with a wide range of indicators displayed, eDOCTOR can help detect different ailments, including heart disease, high blood pressure, and heart failure.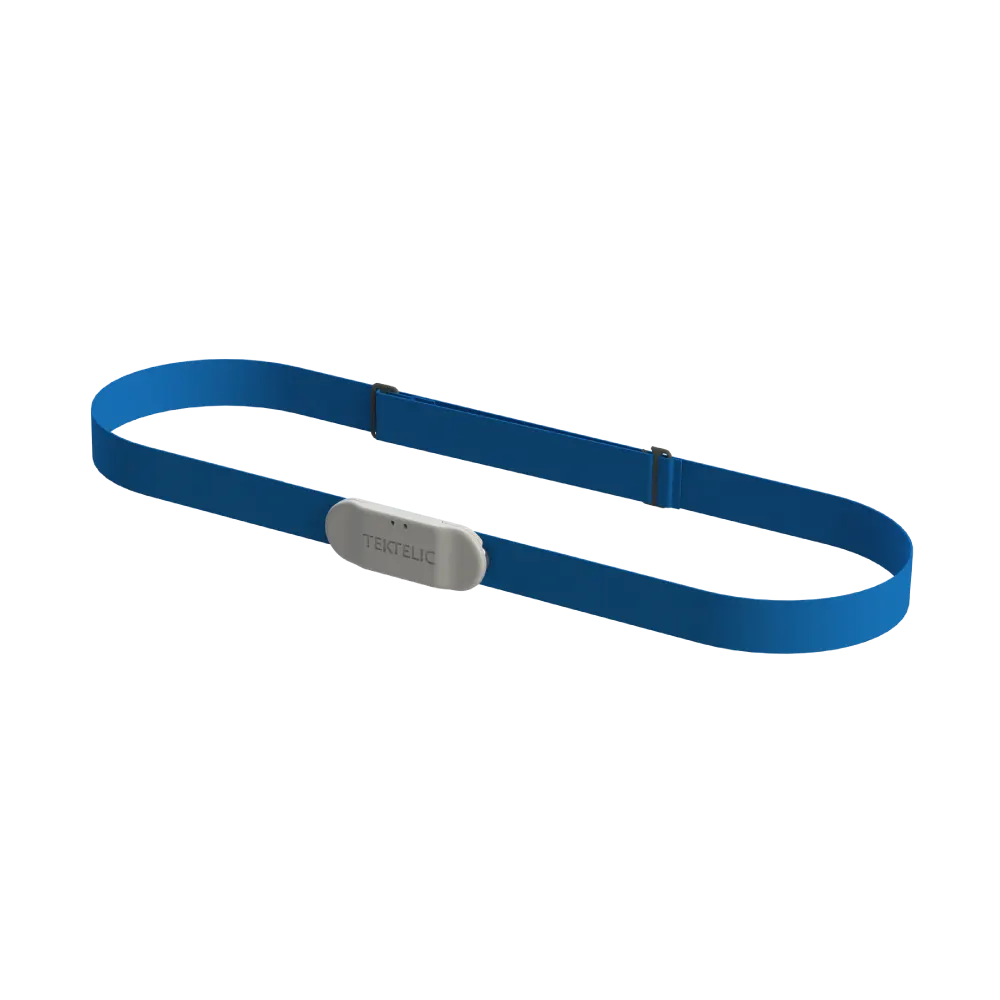 Besides, eDOCTOR shows great potential for vital indications monitoring during small surgeries. During anesthesia, the eDOCTOR monitor can be switched to continuous monitoring mode, which gives a complete picture of a patient's vital indications. The device is also capable of warning signals that indicate a patient may need medical attention.
Smart Thermometers
Smart thermometers are becoming popular along with other smart devices. With a connected thermometer, nurses can monitor a COVID-19 patient's temperature without having to visit the patient (Umair, Cheema, Cheema, Li & Lu, 2021). This helps prevent contact between patients and healthcare workers, which can lead to transmission of the disease. The data collected by the thermometer is sent to an observation dashboard with a friendly-to-user interface, where medical staff can review trends and determine whether a patient has recovered or not yet.
There are also several other uses for tracking thermometers in addition to tracking COVID-19 patients. For example, fever monitoring is important for the treatment of infectious diseases, as it can cause significant damage to the body. Temperature monitoring can provide a valuable service in identifying whether a patient is suffering from a fever, and it will help them avoid wasting time and money by visiting the doctor.
Virtual Clinics
The emergence of smart technology, such as the Internet of Medical Things, machine learning systems, and computer engineering programs are beginning to create real-world impact in healthcare. The COVID-19 pandemic, for example, has placed new demands on healthcare resources and created a need for remote care (Umair, Cheema, Cheema, Li & Lu, 2021). Smart devices like wearable sensors became popular together with telemedicine and a smart healthcare monitoring system using IoT. Such sensors and systems based on IoT technologies can alert a doctor or nurse when a patient is not following a medical regimen or having changes in health conditions. The Internet of Things can also help patients make personal appointments with their physicians using mobile technologies.
The Internet of Things solutions can also help improve healthcare services and alleviate the burden on healthcare providers. This is especially crucial given the aging population. For example, smart sensors can detect diseases and even recommend preventive measures, thereby reducing fatal cases. The benefits of IoT implementation also include saving money, as IoT technology decreases the need for expensive doctor visits and hospital admissions.
Medical IoT devices can help doctors diagnose and treat diseases more quickly and efficiently. The use of connected devices enables hospitals to manage some patients remotely, thereby freeing up bed space for patients who need intensive care. In addition, smart medical devices can improve patient safety by allowing doctors to access patient data from remote locations. The technology can also be used to help the elderly with chronic illnesses or those who live far away from hospitals.
In a certain way, just several technologies such as the Internet of Things or artificial intelligence are changing the way healthcare works. IoT and Smart Technology have enabled hospitals and other medical facilities to track patient location and condition for safety and compliance. In turn, the digitalization of big data in hospitals has helped save precious time and money and achieve well-known competing financial interests of the hospitals. With wearable technology and IoT systems in hospitals, doctors and medical staff can receive updates on the patient's medical history automatically, having extra time to make decisions on the patient's treatment.
Drones
IoT-enabled drones can provide the necessary medical supplies to remote areas, where the medical supply chain is not effectively established. For example, IoT-enabled drones have been used to deliver medications and other therapeutic goods to rural health facilities in Ghana and Rwanda. These drones service nearly 2,500 hospitals and supply 160 therapeutic goods (Deutsche Welle, 2018). Other kinds of drones have already been active in remote monitoring and detecting symptoms of diseases like COVID-19.
Integration of IoT in the Medical Field
The integration of the Internet of Things into healthcare is not much different from the integration in the other spheres. Basically, to integrate IoT and develop a high-quality solution, medical facilities need to have an Internet connection, and…that's it. It doesn't even require high investments as most sensors are low-cost and don't involve any additional deployment costs.
Integrating IoT into medical devices allows providers to streamline clinical processes by automating tasks that would otherwise require manual input from healthcare specialists. For example, artificial intelligence (AI) can be used to detect anomalies in patient work reported that may indicate a need for further testing or treatment. It also allows providers to access patient big data from anywhere at any time without having to physically visit each individual office or healthcare facility. This helps physicians make more accurate decisions based on complete and up-to-date information about a patient's condition and history.
The integration of IoT in medical industry is expected to improve patient care by providing them with correct diagnoses and treatment. It will also help doctors to monitor their patients remotely without spoiling personal relationships by visiting them in a private space regularly. The patient's health information can be accessed from anywhere by simply using a mobile phone or computer. This helps doctors to keep track of their patient's condition even when they are away from the hospital.
Challenges and Recommendations
Privacy
Although the Internet of Things is a promising technology in the healthcare area, they still have some difficulties and challenges to overcome. For example, IoT technology is still partially associated with some privacy issues. The emergence of connected medical devices has raised privacy and security concerns in the healthcare field. These devices collect sensitive patient data and create new vectors for services. They allow fast feedback and measurement from patients, prescription of consumer products, and even digital marketing of some features. However, connected medical devices also present security risks. Malware intrusion can result in high damages, and privacy issues may arise. Hackers may exploit a device to gain access to data, intercept communications, or even move on to other IoT devices within the network. The consequences can be disastrous, as hackers can steal confidential medical information and shut down mission-critical functions. That is why it is critically important to choose a highly-reliable software and hardware.
Cybersecurity
To protect healthcare organizations from cybersecurity threats, IoT appliances must follow general security best practices. Healthcare organizations conduct a risk assessment before deploying IoT devices and monitor network traffic. IoT devices should also be updated regularly to prevent security vulnerabilities as, during data transfers, a continuous stream of health data goes through gateways and other devices on its way to a cloud platform. Public key infrastructure and digital certificates can also be used to authenticate connections.
Manufacturers often prioritize mass production of new devices over ensuring their security. Because these devices are not regularly updated, many of them are vulnerable to hacking. In addition, manufacturers can inject malicious circuits into the microchips at any stage of their creation. Without regular firmware updates, these vulnerabilities can leak sensitive information. And if you haven't yet patched all of these devices, you're not protecting your organization from attackers. That is the main reason for you to work only with reliable IoT providers, who follow network security standards and encrypt data during transmission.
Unified Standards
Additionally, there is still no common standard for these devices. Different manufacturers may develop unique devices, and they may not be compatible with each other. The lack of uniformity prevents the widespread use of IoT in the medical industry. IoT is expected to cut healthcare costs in the long run, but implementing it in a hospital requires expensive hardware and staff training. Here, we should also say a word about our devices as well, since they are fully compatible with other IoT sensors and gateways working under the LoRaWAN platform regardless of the manufacturing brand.
TEKTELIC Response to Privacy Issues
TEKTELIC is aware of privacy concerns people have and that is why to overcome them and make them irrelevant, we create our products with special attention to security. For example, our KONA Micro IoT Gateway is a lightweight and secure IoT gateway designed for industrial and enterprise use. Its internal 3G/4G modem and battery backup ensure that it can continue transmitting sensor data to the network, even if the main site is unreachable. In addition to being a highly cost-effective device, the KONA Micro IoT Gateway has a flexible security configuration to meet the needs of any application. Its low-cost, easy-to-install design makes it an ideal hub for deploying enterprise-level applications in locations where LoRaWAN coverage is not widely available. In addition, it is an ideal solution for private networks, making it the perfect IoT gateway for a variety of applications, including healthcare. The data is transmitted in the encrypted packages so even if other base stations catch any of it, they still won't be able to decrypt.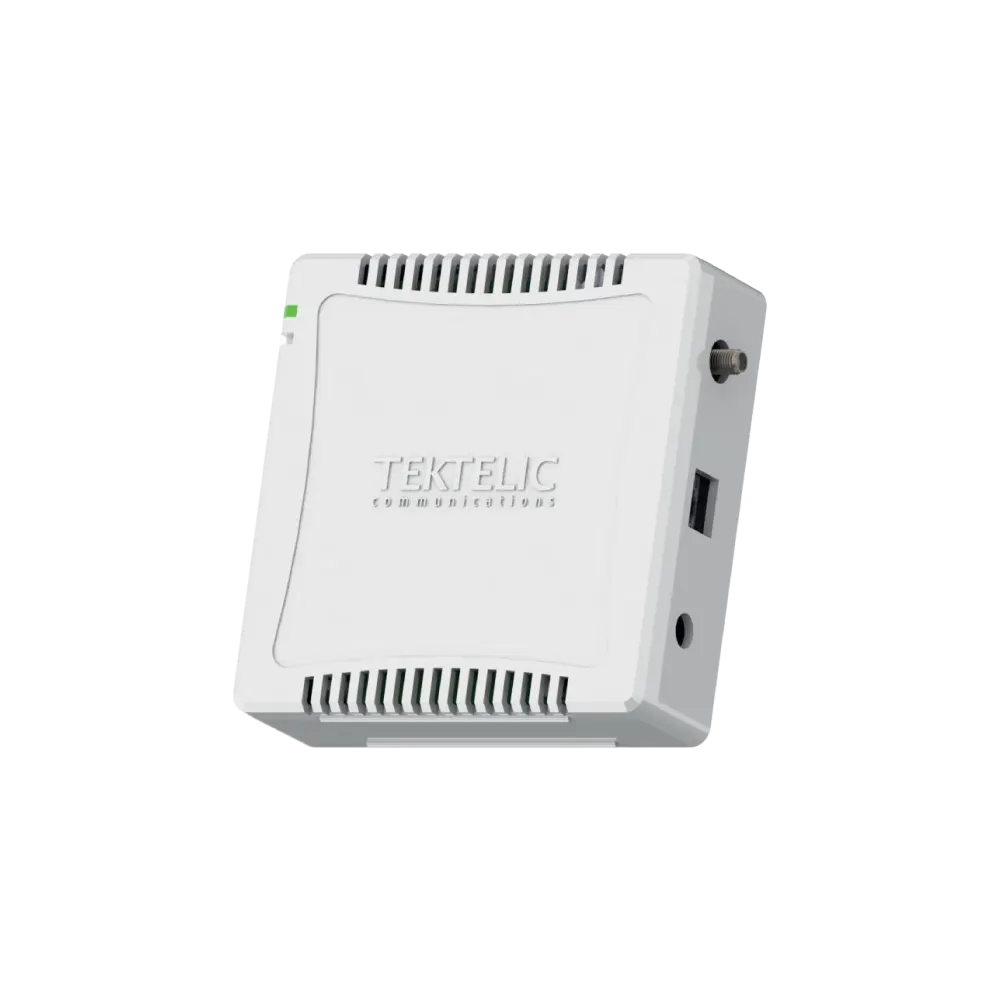 We guarantee security even for the smallest of our devices such as KONA Micro Lite Gateway. This gateway can be connected to the Internet via either Ethernet or Wi-Fi and is self-configured with plug-n-play installation. It is a really useful gateway for the healthcare setting as it can easily be transferred across the facility, and you don't need to install a lot of them permanently if you just need to measure some CO2 levels or humidity in different rooms occasionally.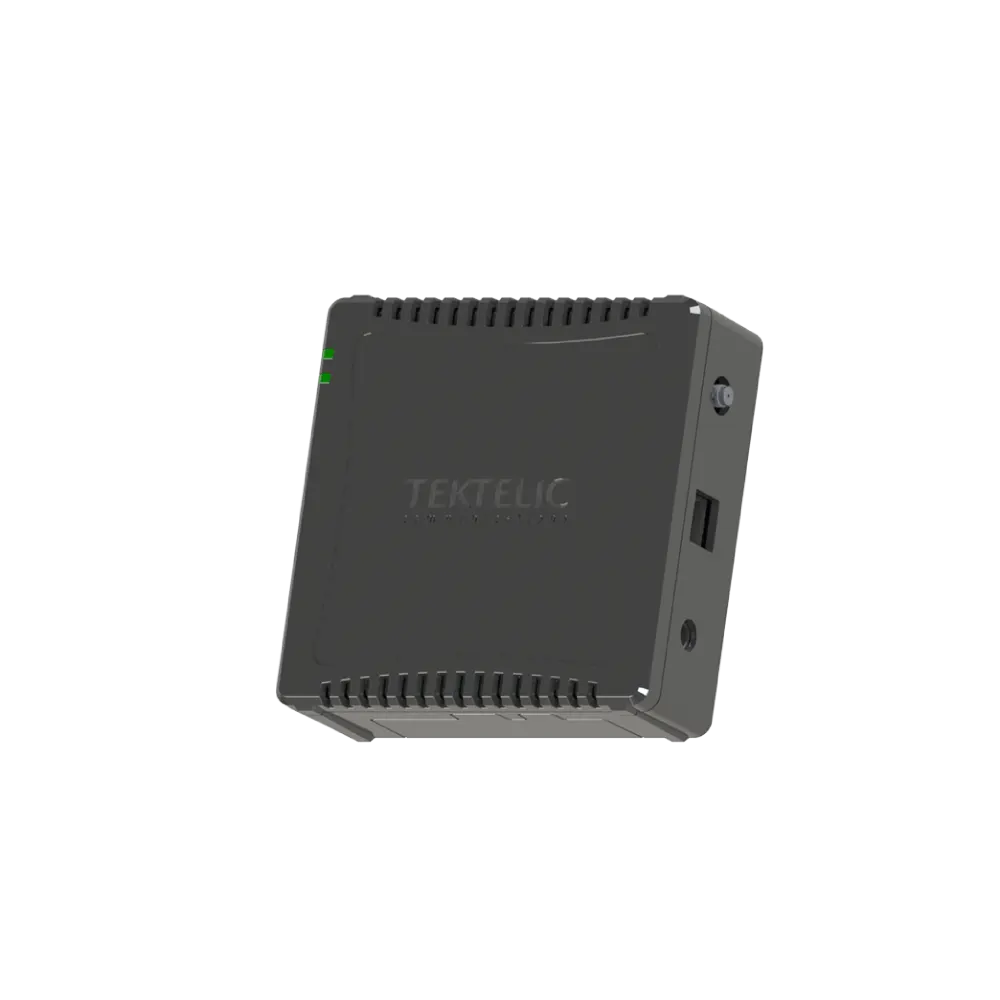 COVID Impact on IoT Adoption
When COVID-19 started, people faced the necessity to do most things in their life remotely and healthcare facilities needed it even more than others because of the high concentration of COVID-infected individuals. TEKTELIC noticed this as soon as it started and that was mostly the main reason for starting the development in the healthcare sphere.
A major challenge in the COVID response was addressing the burden of clinical documentation and the lack of adequate user interfaces. The resulting need for smart data collection was evident, and it prompted many tech companies to build and deploy systems to help hospitals forecast their COVID capacity, improve connectivity, and share best practices. Actually, this challenge is still ongoing, and TEKTELIC has a reliable solution for it.
TEKTELIC eHealth Solution is a complete end-to-end solution, which includes one of our medical sensors, an application, and a gateway. With this solution, all the reports from sensors will be orderly and organized in the app, with quick access at any time. Additionally, you will immediately get all notifications on your desktop, including panic button alerts or drastic changes in a patient's vital indications. All patients connected to cloud computing can be monitored using the eDOCTOR app, which will simplify advanced analytics of treatment outcomes and provide real-time data for better care.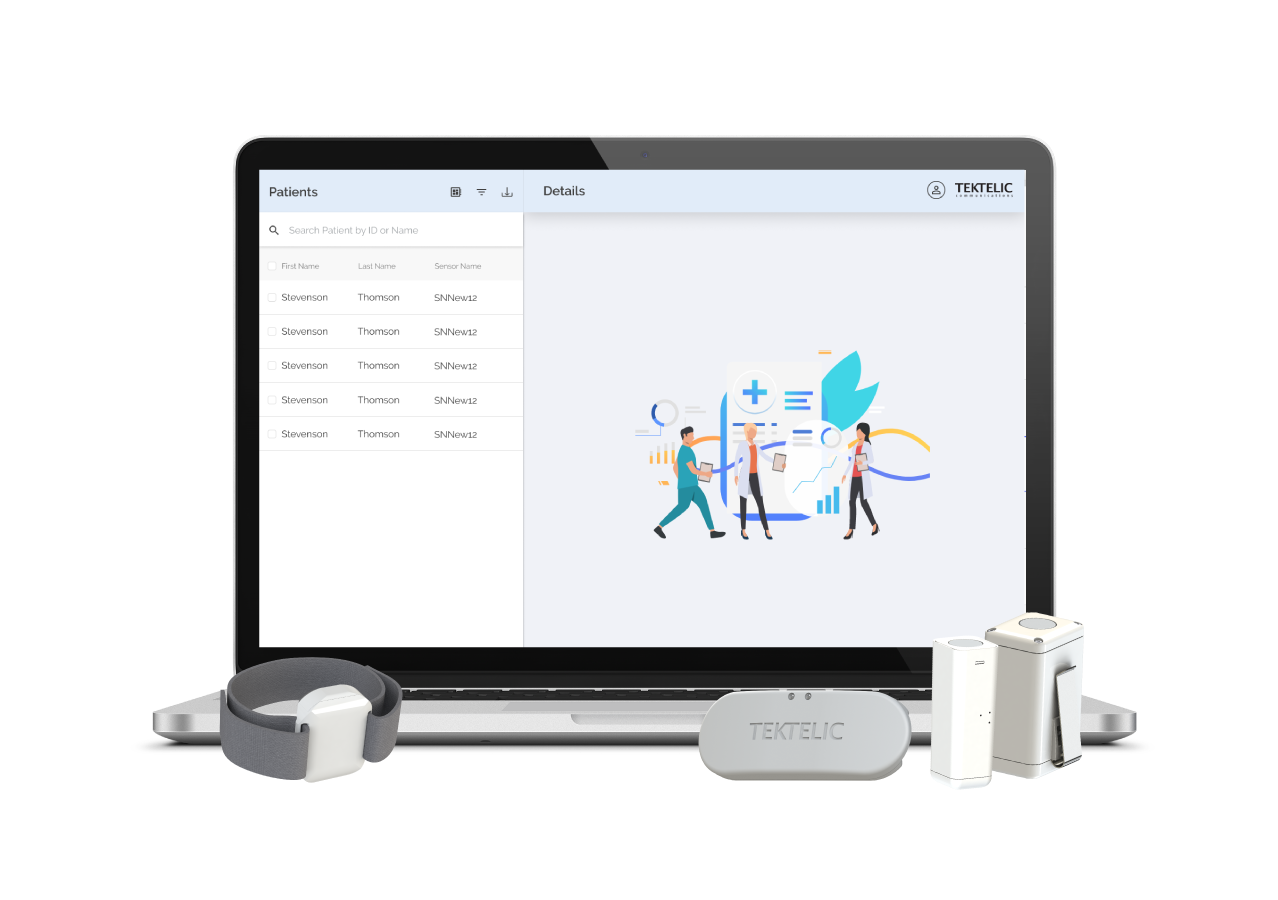 In addition to advancing medical management, IoT devices have a considerable impact on the movement of essential raw materials, such as pharmaceutical-grade water or vaccine. Because of the high demand for the COVID vaccine, global governments and major logistics companies have been working on novel IoT solutions to address this challenge. In TEKTELIC, for instance, we have developed a TUNDRA sensor. These sensors monitor the temperatures inside boxes of the COVID-19 vaccine, allowing the carrier to take appropriate measures to avoid damage to the vaccine during transit. It works in the extreme temperature range from-40°C to +85°C with humidity monitoring included, so you'll be always aware of conditions in the transferring environment.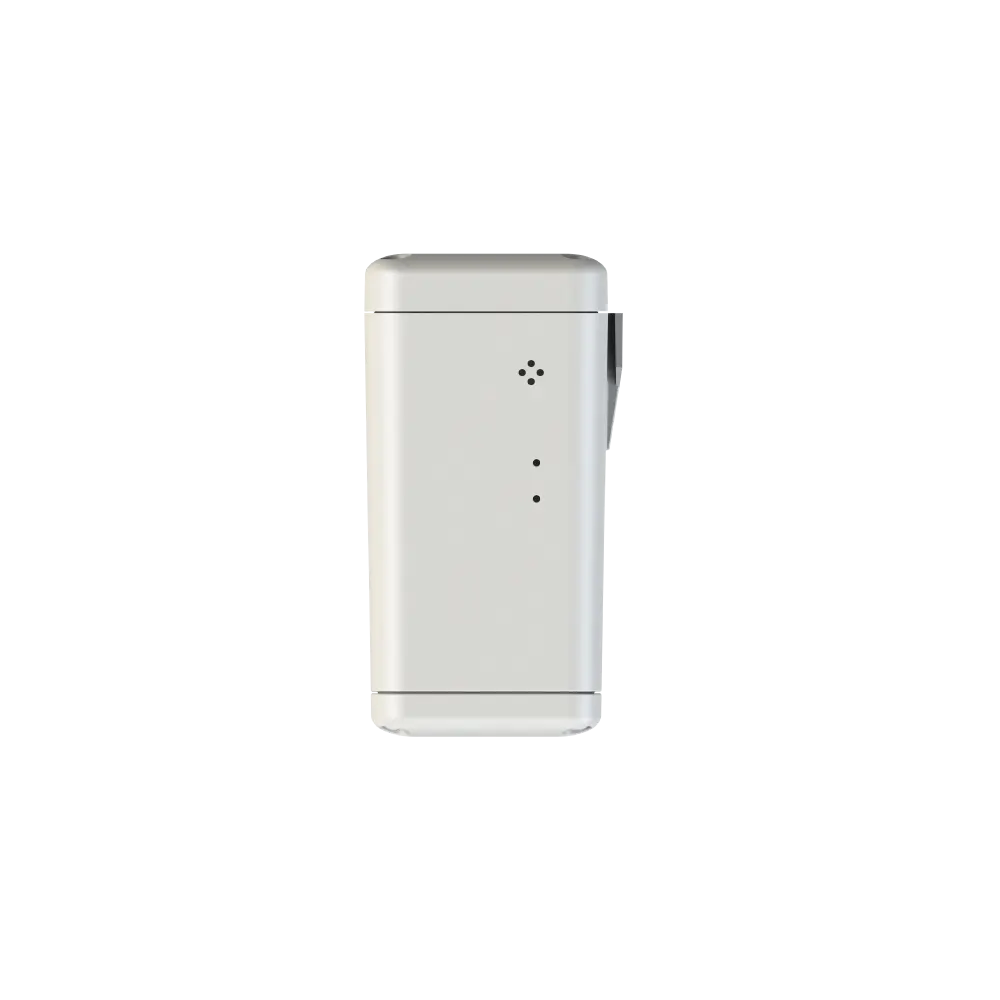 The adoption of IoT technologies continues to grow as well as the importance of IoT in healthcare. COVID-19 has an increasing impact on business operations. Its impact on the adoption of IoT solutions has led to changes in priorities and policies, which are driving the adoption of IoT in many sectors, including healthcare, cities, and logistics. generally, COVID-19 has only increased the need for innovative solutions that use IoT to solve real-world problems.
Quick Summary
After this quite detailed analysis of IoT's role in healthcare, we can say that it's become more important than any other technology. Firstly, it can drastically reduce the need for face-to-face visits. The device can be set up to analyze patient data and provide quick access to final reports, speeding up the decision-making process and the proper course of action. In addition, it can also help reduce the cost of healthcare. Therefore, it is essential for healthcare institutions to adopt this technology in a variety of areas.
Lastly, the technology can improve service quality, reduce downtime, and boost customer satisfaction. By using data collected from IoT devices, healthcare institutions can better serve their customers and reduce costs. Additionally, as you have already noticed, TEKTELIC has a variety of products from this section and is happy to help your medical facility become smart and advanced. So, don't hesitate to write to us, we will be happy to answer all your questions and help deploy your first IoT device.
Deutsche Welle. (2018). Medical drones: Ghana to follow Rwanda's example. Retrieved 29 July 2022, from https://www.dw.com/en/medical-drones-ghana-to-follow-rwandas-example/a-46690095
Umair, M., Cheema, M., Cheema, O., Li, H., & Lu, H. (2021). Impact of COVID-19 on IoT Adoption in Healthcare, Smart Homes, Smart Buildings, Smart Cities, Transportation, and Industrial IoT. Sensors, 21(11), 3838. doi: 10.3390/s21113838
To be informed about our
latest news 
subscribe to our newsletter