What is Smart
Asset Tracking
?
Smart Asset Tracking is a method of using internet-connected devices to monitor the location, condition, and status of various assets across different locations. Assets that can be monitored include equipment, products, vehicles, or even animals and people. By attaching IoT devices to assets, businesses can track them in real time and access important data, such as temperature, movement, or usage. The implementation of automated asset tracking can help improve security, productivity, efficiency, and maintenance in any industry.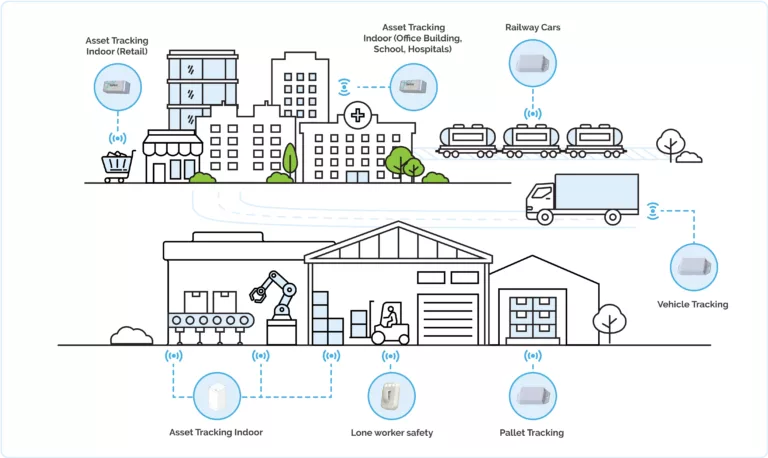 How Do TEKTELIC Asset Tracking Solutions Work

?  

 
TEKTELIC Asset Trackers send regular real-time updates when movement is detected to a LoRaWAN® gateway, so it can decrypt the data and forward it to the network server. From the network server, data goes to our geolocation server and then to the application, where the users can locate their devices and assets. 

TEKTELIC offers both indoor and outdoor asset trackers for comprehensive monitoring of pallets, vehicles, animals, etc. Our asset tracking devices send data over the LoRaWAN® network and use BLE beacons for indoor tracking. Some of our devices feature GPS tracking, which allows for continuous location monitoring when assets are in transit. 
The geolocation server, in turn, has no requirement for GPS-enabled devices and can locate any LoRaWAN® device. It can be integrated into a 3d party network server as well as operate as a part of our solution, offering more freedom for the users who have their network servers.  
A final point in this chain is the application, where users can see the real-time location of the assets, and battery status of their devices, as well as set up alerts for movement detection. It has a user-friendly interface, where you can upload floor plans and maps for better and faster asset locating.  After that, users can match regions with certain assets and apply them when adding new ones. This helps reduce input errors and allows a user to filter their assets by region. 
TEKTELIC offers a variety of asset-tracking solutions for different use cases and industries, so businesses can increase efficiency, enhance connectivity, and reduce the costs allocated to manual asset tracking:
ATEX certified devices can be used in extreme industrial environments with the presence of combustible gases, liquids, and vapors. At the same time, all the outdoor devices are IP67 certified and 
operate in challenging temperature conditions from -40°C to +85°C.  An additional reason to choose TEKTELIC is the long battery life of our devices, with some of them working for up to 15 years without any need for maintenance.
Plus, almost each of our devices features event-based startup, so the data transfer will occur only when movement is detected, saving energy consumption and prolonging the device's lifespan.  
All our devices can be easily integrated into any LoRaWAN® network and can become a part of the already existing solution your business has. At the same time, TEKTELIC offers an end-to-end solution for asset tracking, which works out of the box and can serve as an addition or a separate branch of the smart infrastructure.  
Out of the box deployment