What is Smart
Agriculture
?
Smart Agriculture is a modern way of farming that uses advanced technology, including IoT, to increase farm productivity while reducing human labor. IoT technologies can provide farmers with key metrics about their crops such as moisture levels, ambient temperature and humidity, livestock health, and assets location. Farmers can visualize this information in real-time using an online dashboard or mobile-based application. Smart Agriculture is an innovative way to make the best use of available resources.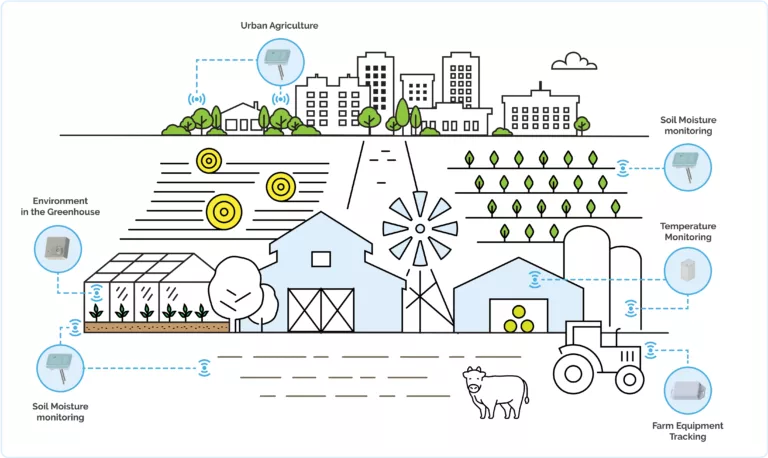 How Do TEKTELIC Smart
Agricult
ure Solutions Work?
TEKTELIC sensors for Smart Agriculture collect information about soil moisture and temperature, as well as ambient humidity, light, and temperature levels. When the data is collected, sensors send it to the LoRaWAN® and it forwards the data to the network server. From the network server, data packets go to our or 3d party application, where users can visualize and analyze the measurements. 

Our Agricultural Sensors come in 2 deployment options:
A surface mounting option is perfect for private farms and gardens, as any worker can easily deploy it on the surface. An elevated mounting option is ideal for public parks and gardens as the sensor will be placed further from the public, preventing accidental damage or theft. Besides, both sensors have an extensive battery life of up to 10 years, making them a worthy long-term investment in agriculture.
Irrigation & Soil Moisture Monitoring
Weather Conditions Monitoring
TEKTELIC offers long-lasting agricultural sensors easily compatible with 3d party applications and fully integrated into the LoRaWAN® ecosystem. Our sensors can be customized and have different deployment options suitable for various use cases. We would like to highlight that TEKTELIC has all the necessary certifications for deployment and can guarantee that your data will be protected with our IoT devices.  
One of the biggest reasons to choose TEKTELIC is LoRaWAN® gateways coverage and rugged enclosure for outdoor deployments. A single LoRaWAN® gateway deployed on a pole, roof, or wall can easily cover up to 15 kilometers (about 9.32 mi). We have the largest gateway portfolio of LoRaWAN® gateways on the market and you will easily find the one for your needs and scale. As the final touch, TEKTELIC outdoor gateways are Carrier Grade, which means that they have lighting protection, built-in RF cavity filters, and can sustain extreme weather conditions. 
Biggest gateway portfolio