Industrial IoT (IIoT) belongs to the IoT subcategory and is based on the same principles. IIoT focuses on industrial automation, production processes, and other systems connected to production lines, while general IoT connects such devices as home appliances, smart city devices, or office monitoring systems. Common IIoT use cases are preventive maintenance, quality assurance, and other areas with high data requirements necessary for a smart factory.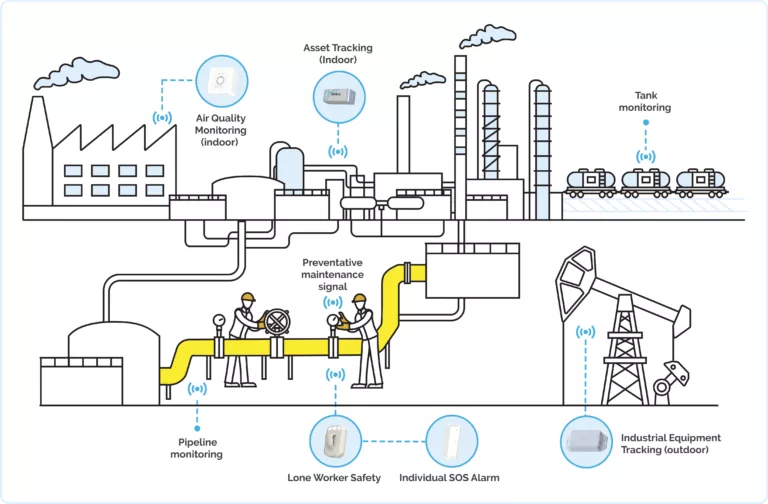 How Do TEKTELIC Industrial Solutions Work?
TEKTELIC offers a variety of LoRaWAN® gateways and devices perfect for transferring sensor data remotely, based on the Industrial Internet of Things framework.  Our gateways gather data from the sensors (location trackers, asset trackers, etc.) deployed within the coverage area and send the data packages to the network server. After that, data is sent to the application, where users can visualize it, analyze it, and see the reports.  


Our extensive gateway portfolio features indoor and outdoor gateways with different channel capabilities. TEKTELIC also offers ATEX-certified LoRaWAN® gateways, which can be deployed in extreme environmental conditions with the presence of dust, combustible gases, vapors, or liquids. Rugged industrial design and excellent scalability make our gateways an ideal choice for monitoring industrial environments, identifying potential points of failure, and automatically triggering predictive maintenance processes.  
In our asset tracking application LOCUS, in turn, field workers can locate assets at a specific distance.  Moreover, application map view can measure distances in meters as you move around the industrial premises. It is perfect for tracking:
Pallets

Equipment and Machinery

Lone workers.

 
TEKTELIC offers products that can be integrated into the processes of any industry.
SEAL - Wearable GPS trackers are essential to ensure lone workers' safety and prevent unauthorized personnel from hazardous working sites, while asset trackers allow real-time asset monitoring around the factory. All our devices feature long battery life, of up to 15 years for asset trackers and up to 12 months for wearables.  
The other crucial component TEKTELIC offers are reliable long-lasting LoRaWAN® gateways that can help connect smart sensors to the network server, so users have real-time visibility of products and predict impending machinery breakdowns. The possibilities are endless, and TEKTELIC devices and gateways can be installed in nearly any factory as we offer both IP67 protection for outdoor products and ATEX certification. 
An additional reason to choose TEKTELIC over other providers is our LoRaWAN® connectivity. 
Our LoRaWAN gateways minimize the network's Total Cost of Ownership (TCO) while improving coverage and capacity. By deploying our gateways in any kind of environment, you can lower operational costs due to low power consumption and passive cooling. Plus, TEKTELIC industrial gateways are extremely compact and lightweight in comparison with others present in the market.  
Check out the Gateway and Network Cost Calculator is made available for LoRaWAN network operators and other interested parties, especially those that don't have wireless network deployment and operation experience, to show the effect of lower Radio performance and quality Outdoor Gateways have on the overall LoRaWAN Network initial deployment cost and even more so yearly operating cost – because one would need to deploy more sites with poorer quality Gateways, the initial deployment cost will be higher, and the ongoing Operating cost will result in poor ROI for its duration in addition to poor coverage, more packets loss, lower devices battery life, more engineering support etc.
ESD and lightning protection
Biggest gateway portfolio