Developing IoT in Hospitality: Main Prospects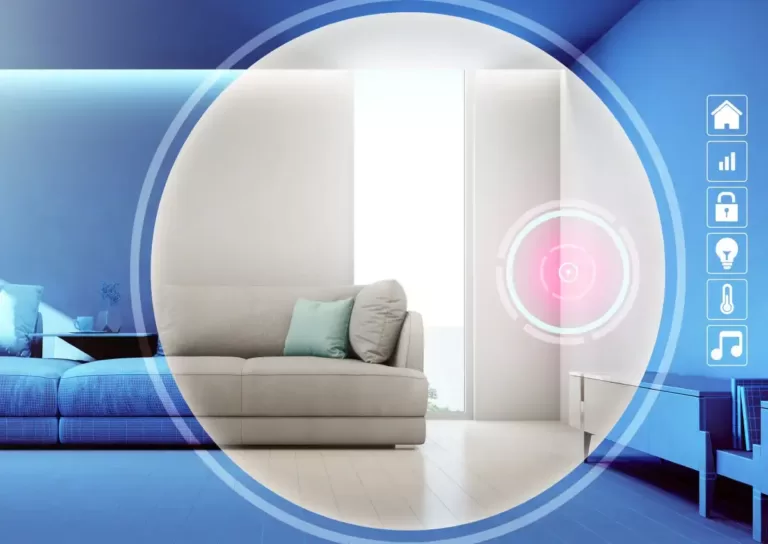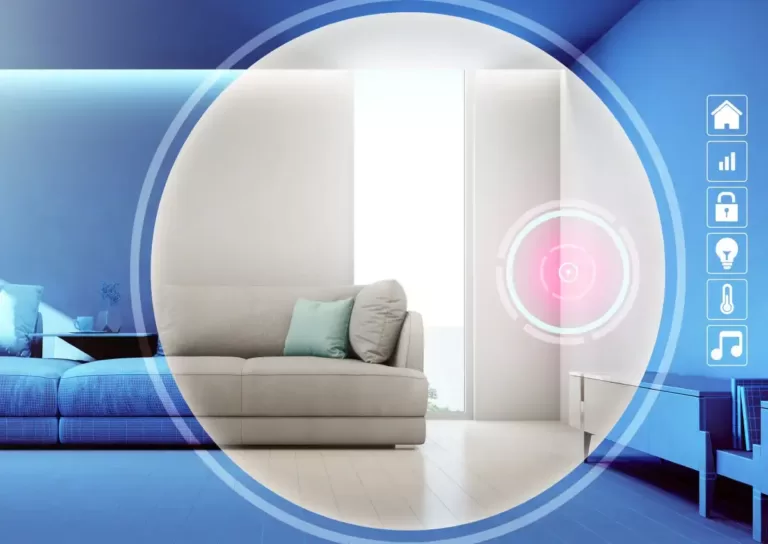 The Internet of Things (IoT) paves its way to all the industries out there, including hospitality. Developing IoT in hospitality is an excellent way to enhance the customer experience and improve services. IoT in hospitality industry will help hotels focus on customer satisfaction, making every guest feel comfortable and at home as smart technology can track guest preferences and adjust future services according to their needs. Without proper technology and automated operations, hotel staff often fail to provide personalized services to guests. For example, housekeeping may accidentally disturb guests, or the front desk may fail to give them the room they wanted. IoT for hospitality industry has great potential, future hospitality services will contribute to guest satisfaction, meeting repair and maintenance needs, and new business prospects.
Embedding IoT Applications
Embedding IoT applications in the hospitality industry is an excellent way to cut costs while enhancing the guest experience. The Internet of Things (IoT) can be used to manage inventory and optimize resource utilization, allowing hotels to reduce manual labor and costs. It can also improve housekeeping and guest service. Ultimately, it can improve customer satisfaction, resulting in a better reputation for the hotel. It can also help drive new business opportunities pushing hospitality services to development.
Reducing Costs
Embedding IoT applications in the hospitality industry is not only a smart move but with the digital business model hotel can also make become way more profitable. With connected sensors, hotels can detect and predict problems early before they lead to costly expenses. For example, connected sensors can detect if an AC unit or temperature control systems need repair and send a timely notification to service personnel.
IoT technology can provide insights into indoor climate factors and help organize smart energy management. Hotel energy use accounts for about 6% of their total operating costs and accounts for 60% of their carbon footprint (Dong, Wang, Hooks & Zhao, 2016). With IoT service packages, hotels can optimize power usage based on the reports provided by digital technologies, which will significantly lower costs.
Predictive Maintenance Instead of Reactive
When it comes to maintaining a hotel, there are two basic methods: reactive and predictive. Reactive maintenance takes place when a problem occurs when it's too late to prevent something and when hospitality service providers have nothing left but to react. Predictive maintenance, in turn, takes place before the problem occurs, which can significantly facilitate prompt maintenance. A hotel that uses predictive maintenance will not only reduce downtime but also cut costs and enable service providers with enough information to fix any issues that occur.
Scheduling
Predictive maintenance involves scheduling routine inspections of equipment in advance. This allows hotel owners and managers to plan for future expenses, while reactive maintenance is only performed when an issue arises. The biggest benefit of predictive maintenance is that it helps owners improve their ROI and prevents costly downtime. A hotel that implements this technology will typically see a 25 percent productivity increase, and a 35-45% reduction in costly downtime (Deloitte, 2017).
Using predictive maintenance and installed property smart systems, hotels can optimize their staff's workflow and minimize unplanned malfunctions. With IoT solutions for hospitality and specialized technological infrastructures, managers can automatically plan routine checks to be conducted to detect any issues before they become large problems. Using automated preventive maintenance schedules as an advanced hotel technology can prevent unexpected costs and improve guest enjoyment. This process also reduces the time and effort needed for unexpected repairs.
Optimized Inventory Management
In addition to the above benefits, the advantages of predictive maintenance extend to inventory management. It enables hotel managers to know when inventory is running low, which can have a direct effect on the guest experience. Predictive maintenance makes hotel rooms better quality because when everything is planned there won't be any accidental leaks, lack of supplies in mini bars, or broken stereo systems. When all the processes are pre-planned? guests will have granted access to the dining and entertainment options, which will lead to increased satisfaction with their stay. It can also help hoteliers better plan their budgets, as it allows them to purchase in bulk and at lower prices optimizing the on-property management system.
Automated Check-In
A growing number of smart hotels are turning to IoT-enabled self-service kiosks to automate the guest check-in process. These kiosks allow guests to skip long lines and receive their room codes quickly. They can also be used to track key equipment, schedule housekeeping services, and effectively provide personalized services.
The use of the Internet of Things (IoT) technology as part of service platforms will allow hoteliers to better understand their guests and provide them with a complete digital service experience. Such a unified data management platform will lead to improved guest satisfaction, more positive reviews, and higher revenue. Hospitality IoT solutions also enable hotels to monitor their processes, which will allow them to tweak their guest experiences.
Advanced Security
The technology that underlies the self-service kiosks is based on a service platform that allows hoteliers to manage the kiosk from a remote location. This platform is integrated with a keyless entry service enabling smart door locking working under the front desk management software. This allows hoteliers to implement smart door locking systems with greater convenience by employing robust security measures.
Personalized Services
The ability to personalize the customer experience is another reason hotels should consider implementing self-service kiosks. With these devices, customers can easily access information about amenities, restaurants, off-property guest services, taxi & tour options, and even the weather. Reservation in such apps is also available using personal guest devices. A further advantage of IoT in travel and hospitality is that it increases transparency for hotels enhancing hotel-guest interaction and positively influencing customer relations dynamic.
Self-service kiosks are a smart way to optimize the efficiency of booking and reservation services. They free up IT staff to focus on more value-generating projects developing digital guest strategy rather than looking for a free hotel room for each guest who arrived. IoT use cases in hospitality also increase the overall satisfaction of visitors as smart devices can gather and analyze guest data for tailoring room service to the specific needs of a particular visitor. This digitalized hospitality service platform will save hotel owners time and money, and make guest experiences even more enjoyable.
AI-Powered Online Chatbots
Hoteliers can use AI-powered online chatbots to improve their customer service and address guest requests more effectively. A chatbot can answer a guest's questions and direct them to the appropriate department to improve customer relationship management. Mobile apps or chatbots can also be used for promotion. with their own proprietary solutions, hotels can ask guests to join a loyalty program so they can receive discounts for future bookings. The chatbot can also increase revenue by cross-selling and up-selling products. It can also answer questions about local attractions and handle guest complaints on offered service packages, market services, and collect valuable data for future improvements.
Eliminating Language Barriers and Staff Shortages
AI chatbots in the leisure and hospitality industry can improve the customer experience by providing information in multiple languages or providing immediate translation services. For example, on-property smart systems can automatically translate questions for hotel staff even if they are voiced in a rare language. AI chatbots can also help with upselling, offering discounts for room upgrades. AI-powered online chatbots can also improve hotel security by automating security tasks and preventing unauthorized guests from entering the premises. In addition, such digital technology can manage the hotel's high-occupancy periods and unexpected staff absences.
Using Guest Data to Address Requests Efficiently
A good AI bot will analyze customer input and respond accordingly. With the AI-integrated, it can differentiate itself from its competitors, provide targeted offers and notifications, and even learn more about the guest's preferences to know which IoT trends in hospitality are suitable for them. This way, it can provide a better customer experience for both the hotel and the guest.
Hotel chatbots can reduce reception staff workload, improve customer engagement, and enhance the processes in the hospitality management industry. AI-powered chatbots can help hotels exceed guest expectations and increase revenue as well as automate numerous hotel processes, including reservations, payments, and FAQs.
Chatbots can be used as 24×7 virtual concierges. They can also provide recommendations on local entertainment and dining venues based on guests' location data. They can collect data and learn about customer preferences, including their dietary restrictions. The chatbots can also become smarter with every interaction, establish connections with partner service providers, and correspond to technological service demands.
What Issues are Important to Address Establishing a Digital Service Platform?
The application of the Internet of Things (IoT) in hospitality has numerous advantages. For example, it can help hotel operators monitor and manage consumables. It can also alert hotel staff if a leaky pipe is detected. The hotel can also use housekeeping maintenance software to schedule cleaning and do not disturb guests when they don't want to be disturbed. The current hospitality industry lacks standardization and digital technologies can provide this. The IoT hospitality industry has the potential to reduce the cost of repair damages and improve the hospitality industry outlook. However, while there are numerous benefits associated with IoT in hospitality industry, there are also some risks and challenges to address.
Cyber-Attacks
Cyber-attacks in the hotel industry are a serious issue that requires careful preparation and response. Because hospitality businesses rely on digital technologies to operate, many of them are vulnerable to cyber-attacks, especially through mobile devices. Hotels use computers to process payments, manage reservations, and more. They also use key-card access to rooms. The computer systems that manage these operations are often vulnerable to ransomware attacks. These attacks are designed to lock down computer systems, demanding large ransom payments.
Often, cyber-attacks happen at the point of sale, which is where guests pay for services. This is often done with the help of a fraudulent webpage. Another form of attack is the use of a fake website to trick hotel guests into providing personal information. In such cases, hotel employees will have to make sure that hackers do not run such websites and report fraud as soon as they see such websites exist. With so many transactions taking place in a day, staff members are frequently juggling tasks and information. This creates an environment where human error is very likely to lead to a breach. For this reason, hotels need to implement a security program and high-speed Internet connection that will protect their networks against cyber-attacks.
Real Case Example
In 2019, MGM Resorts reported that the personal data of over 10 million of its guests were exposed online (BBC News, 2020). Marriott also revealed that it suffered a data breach that affected over 500 million customers (O'Flaherty, 2018). It is also important to note that the hospitality sector is one of the top five industries for data breaches.
Another way that cyber-attacks can affect hotel operations is through ransomware attacks. These attacks can block guest access to facilities. For example, in January 2017, cybercriminals seized control of an Austrian hotel's key-card system, locking out 180 guests until the hotel paid a ransom(Bilefsky, 2017). Ransomware attacks can also affect hotel computer systems, rendering them unusable or altering them. This can affect the level of comfort a hotel can provide to its guests. This puts a hotel's brand and trust at risk and calls for a well-protected IoT in hospitality and a strong firewall.
Compatibility of Devices
One of the growing areas of application for smart devices is hospitality. A connected hotel environment can streamline building operations, increase guest satisfaction, and cut costs for the workforce. In addition, IoT in hospitality provides hoteliers with the ability to analyze service processes and adjust them accordingly. This allows hoteliers to tweak existing services and introduce new ones with little to no additional cost.
However, implementing IoT in hospitality is not a one-size-fits-all solution for every hotel. For example, a hotel in a developing country may not be able to provide a high-speed Internet connection. In addition, the hotel's internet connection may be unstable or not reliable enough. Or another problem that might arise is the incompatibility of devices and the difficulty to connect them to each other. That's why it would be wise to choose a provider, who ensures the simple interconnection of the devices.
What Can TEKTELIC Offer for Hospitality?
TEKTELIC also offers a range of devices for the hospitality industry. For example, TEMPO for conference rooms. It can improve meeting scheduling and track guest movements between locations. TEMPO tablet has a year of battery life and is completely wireless, so you don't need to think about mounting it near the outlet or worry about hiding the wires. It analyzes statistical occupancy data and offers a convenient way of monitoring room usage through Microsoft Outlook and Google Calendar. Besides boosting productivity, it is also a cost-effective solution that is ideal for a smart hotel.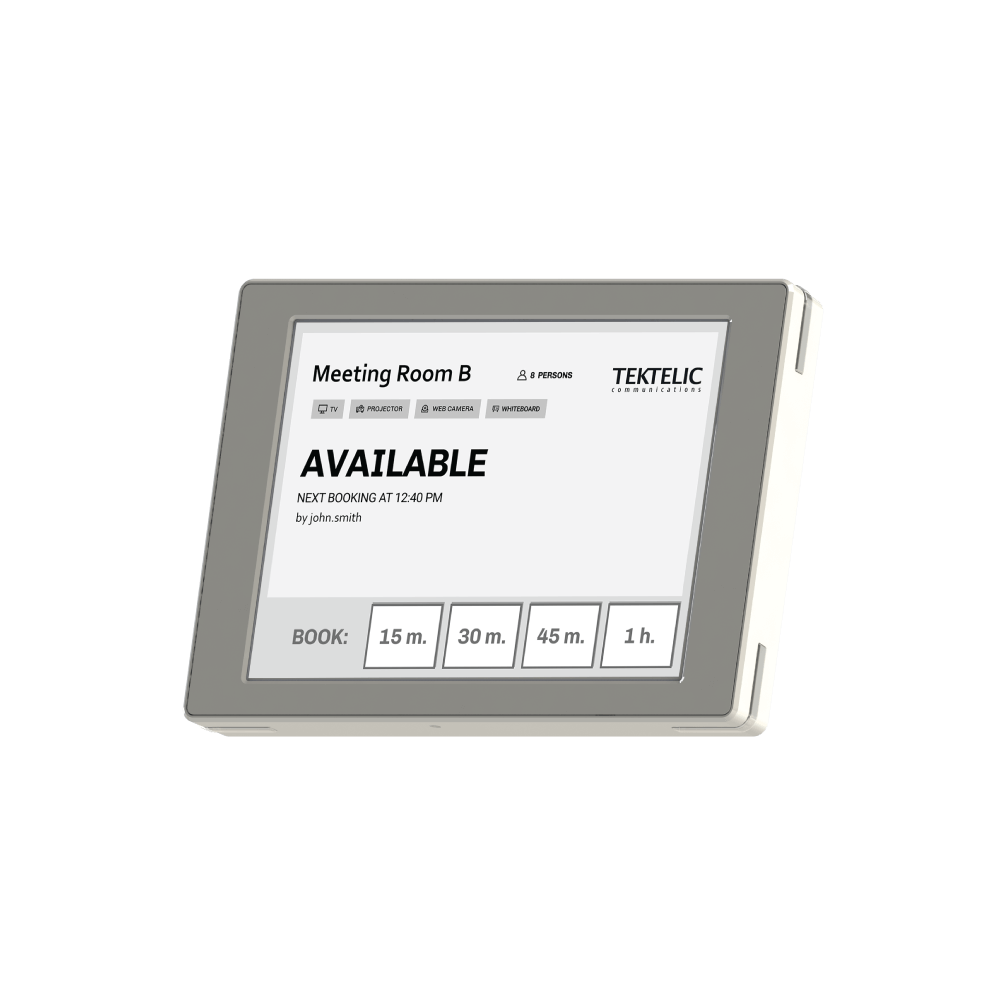 TEKTELIC VIVID is another powerful LoRaWAN device packed with a variety of sensors that can monitor hotel rooms. Its long-lasting battery life makes it an ideal solution for IoT in hospitality. It has a PIR sensor and can detect motion right away, which enhances security and can be used to manage occupancy in conference rooms or public usage spaces. Its configuration software allows you to control each sensor individually, including thresholds. The VIVID device can also monitor the position of windows and doors (open/closed) and can prevent overbooking in conference rooms. It also monitors the temperature, humidity, leaks, and air pressure, so managers can set up the HVAC system.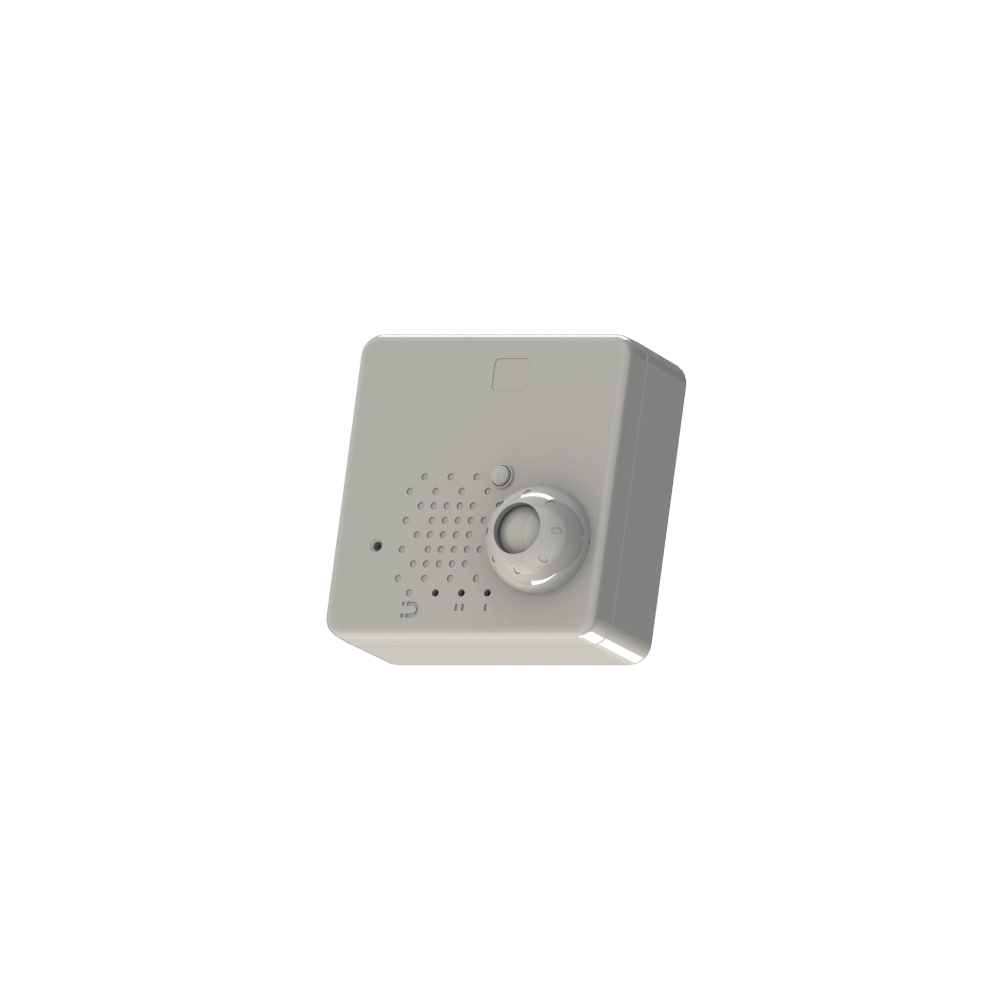 TEKTELIC has a wide product portfolio of LoRaWAN Gateways, IoT Devices, and End-to-End Solutions suitable for hospitality. The company's LoRaWAN Gateways have high reliability, low cost-of-ownership, and scalability. For instance, KONA Micro LoRaWAN Gateway is ideal for mid-size to small enterprises, especially for remote operations. It has an integrated 3G/4G modem and Ethernet backhaul, allowing for high-performance connectivity. Plus, it accommodates 4 hours of battery backup, so it will continue to receive and transfer data even if the main source of power is off.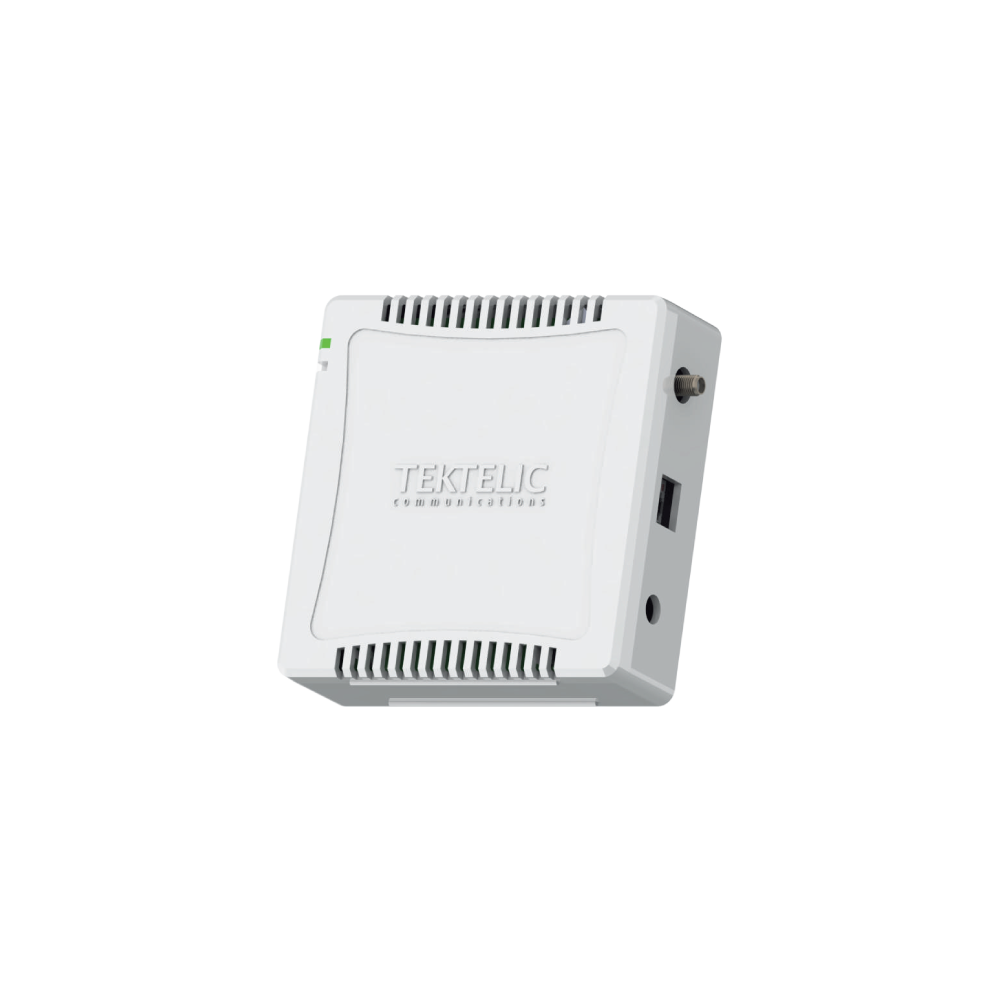 Summing up
Using IoT in hospitality sector means that hotels can use real-time data about their equipment and appliances, allowing them to react to any problems in a timely manner. They can monitor and fix devices before they break down, which saves both time and money. Another advantage of IoT for hotels is that they can use IoT technology to remotely control and monitor appliances.
Hotels can also use IoT for guestroom automation. For example, hoteliers can replace traditional key cards with an electronic version that guests can download on their smartphones. The electronic keycard can then unlock doors without having to use a separate key. Other IoT applications for hotels include smarter lighting, curtains, and temperature control. This is all aimed at providing a super-personalized experience for guests.
In addition to increasing guest satisfaction, IoT in hospitality can also help hotels cut costs and improve operations. By identifying patterns in guest behavior, hoteliers can tailor services and products to meet the needs of each guest. In addition, using IoT in hospitality can help hoteliers monitor their energy usage and workload, which will lead to significant savings in the long run.
So if you are considering making your hotel a smart one and don't want to lag behind the competitors, IoT is a smart choice. TEKTELIC, in turn, being a global IoT provider will be happy to help and find a solution suitable for your needs. Take a minute to write to our sales team for more details.
BBC News. (2020). MGM hack exposes the personal data of 10.6 million guests. Retrieved 3 October 2022, from https://www.bbc.com/news/technology-51568885
Bilefsky, D. (2017). Hackers Use New Tactic at Austrian Hotel: Locking the Doors (Published 2017). Retrieved 3 October 2022, from https://www.nytimes.com/2017/01/30/world/europe/hotel-austria-bitcoin-ransom.html
Deloitte. (2017). Predictive Maintenance. Deloitte Consulting Gmbh. Retrieved from https://www2.deloitte.com/content/dam/Deloitte/de/Documents/deloitte-analytics/Deloitte_Predictive-Maintenance_PositionPaper.pdf
Dong, B., Wang, N., Hooks, E., & Zhao, J. (2016). Quantifying Behavior Driven Energy Savings for Hotels. ACEEE Summer Study On Energy Efficiency In Buildings.
O'Flaherty, K. (2018). Marriott Breach — What Happened, How Serious Is It And Who Is Impacted?. Retrieved 3 October 2022, from https://www.forbes.com/sites/kateoflahertyuk/2018/11/30/marriott-breach-what-happened-how-serious-is-it-and-who-is-impacted/?sh=11b27e917d25
To be informed about our
latest news 
subscribe to our newsletter