The Future of Smart Healthcare: What to Expect?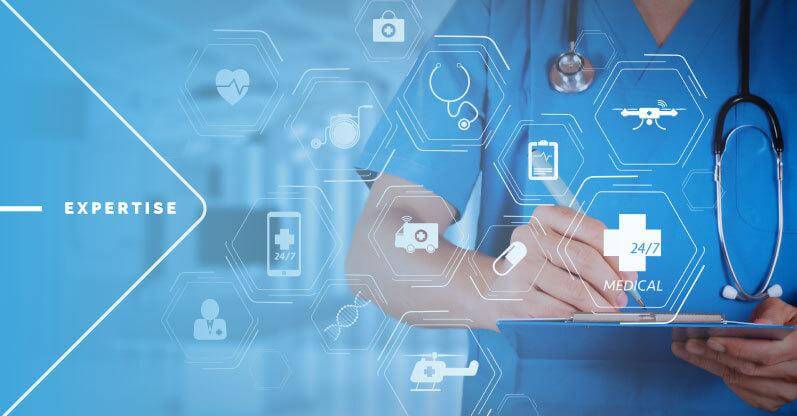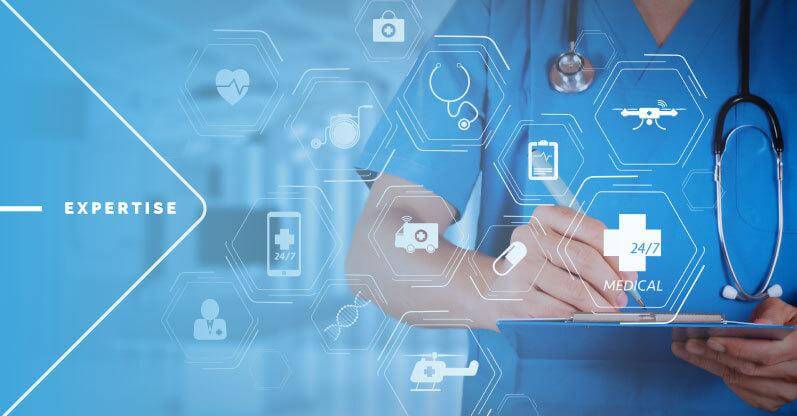 The future of Smart Healthcare begins with Smart Hospitals. The world's population is aging and growing rapidly. By 2050, there will be nearly two billion people over the age of 60. A hospital will be a place where patients can receive acute care. As the population gets older, more people will need help. This will lead to the need for greater efficiencies in the healthcare industry.
Actually, the future of smart healthcare is already here. For example, just now one Florida healthcare system is deploying Amazon Alexa in 2,500 rooms to allow patients to communicate with their medical team. Eventually, smart hospitals will have smart rooms, smart Oral Rehydration Solutions (ORs), artificial intelligence (AI), and mixed reality. The IoT will be integrated into a powerful ecosystem, which will include doctors, nurses, and other health providers. Digital health solutions have already begun to improve the quality of life of many patients and healthcare professionals start to understand this.
IoT Applications in Digital Health Systems
Currently, the healthcare industry is a complex system that involves the necessity to prevent diseases, improve customer experience, follow the World Health Organization guidelines, and optimize the work of clinical teams. The implementation of IoT in hospitals, in turn, can become a simple solution for remote patient monitoring, direct patient care, advanced care for high-risk patients, and clinical decision-making.
Information Accessibility
IoT technology can provide the patient information needed to improve the quality of healthcare services. In addition to delivering care, IoT solutions in healthcare can also provide valuable data to the medical staff. The integration of IoT and smart clinical care systems is also key to improving the overall quality of care. This means that a patient's condition can be monitored and treated immediately based on what they are feeling and what is happening around them.
Decision-Making
In addition to providing personalized care, IoT can also help in improving security in health services around the world. By monitoring a patient's heart rate and blood pressure, the technology can provide medical information in real-time, which is really helpful in emergency decision-making. In fact, it can even alert health care providers to any crisis or fall detection. This will ultimately improve the quality of care delivery and reduce costs. In the long run, Internet of Things technologies for healthcare will become a way to ensure better outcomes and improved care.
Patients' Experience
The Internet of Medical Things (IoMT) can increase patient satisfaction, lower costs, and improve compliance. In addition, a smart healthcare monitoring system using IoT can help track patient performance and location, which enables healthcare workers to react immediately if needed. The devices can also help medical facilities manage their assets, so when a patient arrives there is already a set of all the necessary items in the room. What is more, the use of IoT in healthcare can reduce patients waiting time because they could make an appointment with a doctor using their mobile devices and have notifications about any delays to the mobile apps. Such innovative technologies will enormously improve patient experience and comfort.
In general, the medical industry needs reliable clinical data management. The adoption of edge computing technology can help develop smart healthcare and lead more hospitals to a digital transformation. Implementing digital technologies will protect patient privacy, increase operational efficiency, lead to better patient outcomes, and gather data necessary for better-quality care. The current benefits IoT can bring to healthcare organizations are significant but the potential for this technology is even more impressive as it includes the gradual transition of hospital services to virtual reality, access to all medical records via the Internet, and the ability to set care settings and preferences while choosing a doctor or a place for receiving medical care.
Trends Driving Smart Hospitals
The benefits of smart technologies are limitless and IoT use cases in healthcare are constantly expanding. With this in mind, many hospitals incorporate smart devices, wearable devices, and augmented reality into their daily practice. Such rising popularity of IoT in medical and healthcare spheres has created a certain set of key trends that have reshaped the health system globally and encouraged transitioning to one interconnected integrated system. The usage of intelligent infrastructure has proved that a simple technological advancement with modern biotechnology can significantly improve the health sector. Making medical care smart by integrating speech recognition, surgical robots, and multi-level change will help create a smart planet with all the necessary tools to offer new generation quality care.
Automated Decision-Making in Healthcare Industry
Health care providers are actively exploring ways to use artificial intelligence to improve patient outcomes and increase efficiency. IoT healthcare devices use algorithms and machine learning to analyze and interpret data and to deliver personalized experiences. It is a powerful way to automate expensive and repetitive healthcare operations. IoT-driven healthcare can supplement the work of operational staff, reducing time spent on administrative tasks and empowering people to focus on more critical work.
With automated decision-making in healthcare, health workers will be able to evaluate patient health better because of access to evidence-based information. Obviously, without automated analysis hospital workers may make some mistakes during the diagnostic process, which can put the patient's life at risk. In the past decade, we didn't have an opportunity to have healthcare IoT applications and medical workers had no choice but to make decisions without AI or any other high-technology support. However, as for now, automated diagnosis and decision-making tools are available, so they should be deeply involved in digital health systems. These tools will provide better results, detect deviations from a recommended care plan, and allow physicians to intervene in real time. Further, automatic dispensing machines will help patients avoid long lines at the pharmacy and dispense the correct drugs without wasting any time, which will help patients to better follow medication adherence.
Telemedicine as a Fixture of the Healthcare Landscape
In the background of the COVID-19 pandemic and the high necessity for social distancing, telemedicine has become a great solution. As social isolation and stay-at-home orders reorganized the care delivery system, many health professionals and healthcare providers embraced the telehealth/virtual care model and recognized the benefits. What is more, telemedicine is a great solution for those people, who live in remote areas and cannot constantly come to the hospital for regular checks.
Remarkably, one IoT in healthcare case study conducted by researchers at PCORI funded by the National Institutes of Health is currently addressing key questions about telehealth, including how to best harness this technology to reach populations with limited access to technology and provide culturally sensitive interventions. These researchers have already examined nearly 300,000 virtual care visits from older patients and found that the majority of those who benefit most from telehealth services are also the ones who have the least access to them. It places the phenomenon of telemedicine in the line of main things that will construct the future of precision medicine. It enables patients to perceive information regarding their health from all round the world regardless of their location.
Healthcare Institutions' Partnerships with High-Technology Companies
Health systems are increasingly embarking on digital partnerships to improve patient care. Big companies such as Microsoft, Google, and Apple have all struck up partnerships with major hospital systems in recent years. The latter company, meanwhile, has partnered with the Mayo Clinic to create a digital vaccination record and gather all the big data on its servers. The two other companies also have developed software for medical systems, such as a cancer-solving algorithm. And recently, 14 hospital systems formed a company called Health Catalyst that will share and analyze patient health records. However, the biggest problem with these companies is the cost of working with them. For a small hospital or intermountain healthcare institution, this collaboration will not be financially possible. That is why, in the nearest future of smart data acquisition in healthcare, hospitals will look for IoT technology in the smaller IT companies, which can offer different solutions, such as smart beds, smart wearable devices, or asset monitoring systems at lower prices. There is a place, where TEKTELIC can greatly help you because we can offer you end-to-end solutions, leverage technology you already have, and simplify the data analysis enormously at affordable prices.
The healthcare industry is rapidly changing and partnerships with high-technology companies are a key strategy for transforming the industry. According to Becker's Hospital Review, health systems with innovative technology are increasingly seeking new business models and improving patient care. In 2017, more than $15 billion in venture capital went into healthcare startups. The $15 billion figure does not include investments by established technology companies in these startups. The resulting investments will make it possible for healthcare systems to embrace the latest information technologies and streamline their operations.
Discover TEKTELIC Solutions for Smart Healthcare
The future of smart healthcare involves the integration of IoT, AI, and 5G. TEKTELIC Company recently has begun actively integrating IoT and 5G into its products and professional services in the field of human health. The company's products and services enable monitoring and interpretation of vital signs, disease risk prediction, and other data connected to the patient's health. In addition to these innovative products, TEKTELIC is also putting into operation asset-tracking devices for hospitals. Using the latest IoT technology and cloud computing, these devices offer high-quality services and help to track all the equipment within a medical facility.
Primarily, TEKTELIC has developed the eDOCTOR which is a great wearable solution for people who need to constantly monitor their vital signs. The system is designed to support the needs of aging adults and active seniors with chronic health conditions, or just those people who need to monitor their physical condition regularly. The platform's unique approach combines remote patient monitoring, wellness, and telecare to deliver continuous care. The eDoctor Device uses multiple incorporated sensors to collect patient data and analyze it to provide proactive care. It also integrates with related technologies to optimize the patient's experience with a remote monitoring system. It transmits information via the LoRaWAN network, ensuring it is safe and complete. The result is a more personalized experience and a more efficient smart health care system.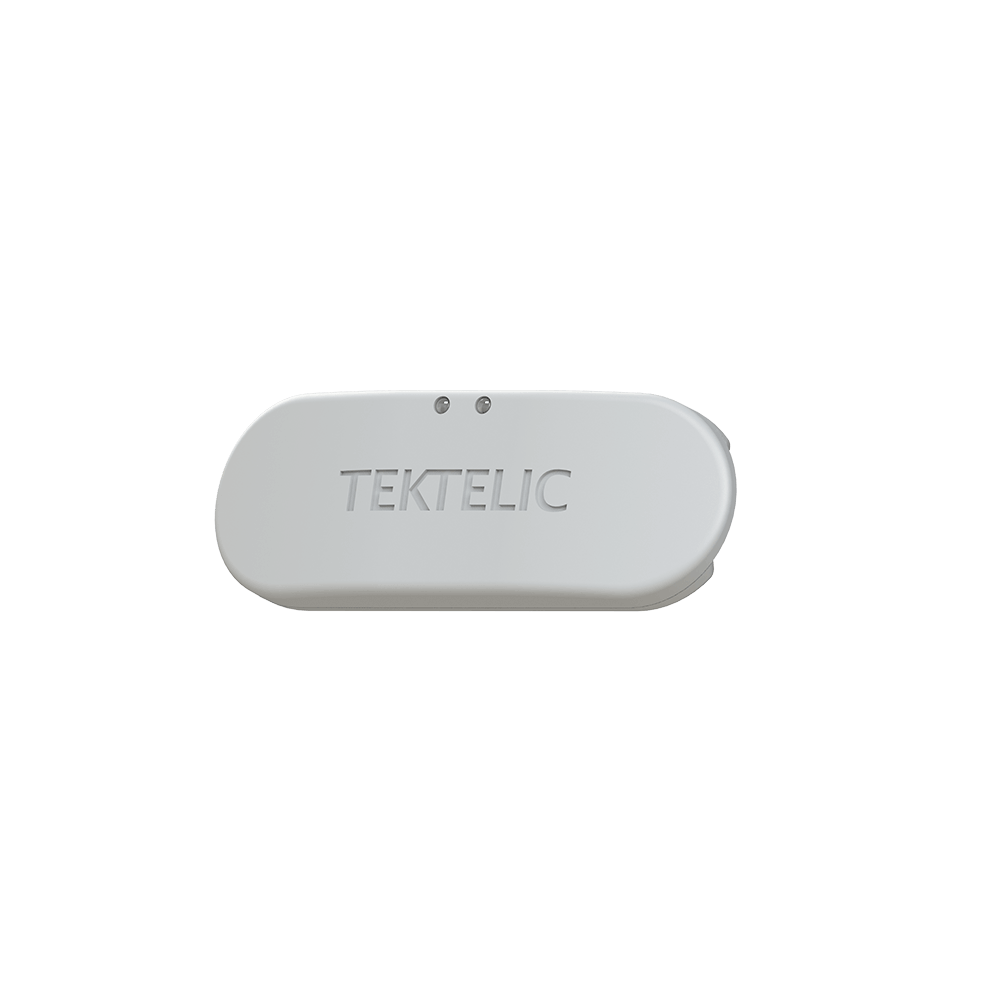 Now, when you understand the role of sensors in IoT medical and healthcare applications you can objectively access which IoT devices will be beneficial for your healthcare institution. The future of smart healthcare will definitely include the use of IoT-based technologies, so the importance of IoT in healthcare is undeniable. These devices will help physicians improve patient care by providing smart medical services at remote locations making high-quality care more accessible. This will help patients feel more comfortable and reduce healthcare costs. With the introduction of IoT, it will be possible to design smart health equipment that is both efficient and safe. Moreover, the industry will be able to improve the overall experience of its customers and physicians.
Things to Remember
The essence of digital technologies is to make healthcare more efficient and accessible. By transferring health information to the cloud, smart healthcare can connect patients, doctors, hospitals, and medical equipment for effective interaction. As a result, a patient-centric approach can help hospitals reduce medical costs and improve efficiency and quality of care. TEKTELIC's mission, in turn, is to provide better health care services through improved health systems together with IoT technology.
As you see, the future of smart healthcare in IoT is definitely quite promising. So, if you want to keep up with the trends, and not lag behind other healthcare providers, don't hesitate to contact the TEKTELIC sales team: at info@tektelic.com and start making your medical institution smart and efficient.
To be informed about our
latest news 
subscribe to our newsletter