LoRaWAN Gateway Lightning Protection and Grounding: what to consider for a dependable LoRaWAN Network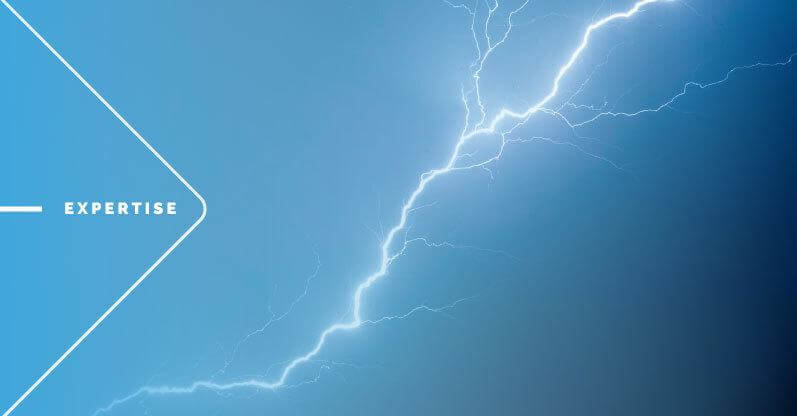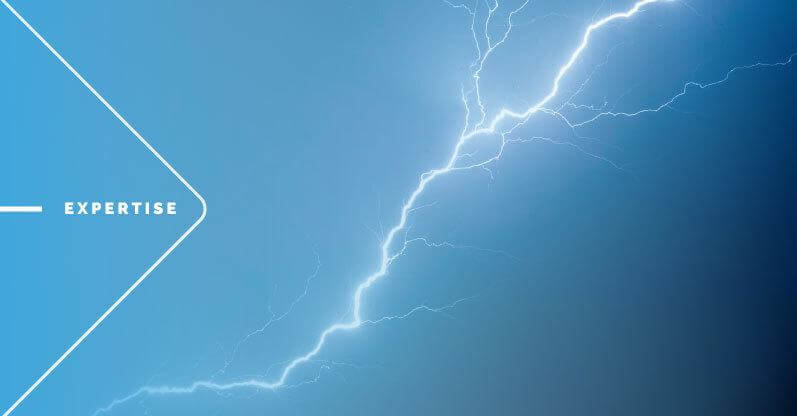 In order to have a dependable LoRaWAN network operation, you have to check a range of aspects, including radio equipment, indoor and outdoor antenna cable, power supply, the stability of radio signals, gateway protection, and gateway placement. Ensuring field reliable equipment is the first thing in establishing a reliable network.
There are many salient design aspects that make for field-reliable outdoor equipment. One of these aspects is dealing with the real-world effects of Electromagnetic Interference (EMI). Electromagnetic Interference immunity compliance deals with the effects of electrical interference imposed on equipment from severe natural phenomena such as lightning strikes as well as from more benign human originating phenomena such as Electrostatic Discharge (ESD), Electrical Fast Transients (EFT), and strong Electric and Magnetic Fields (EMF).
At the same time, tower-mounted radio equipment has to be able to withstand electromagnetic interference, and any severe natural phenomenon to ensure a long and trouble-free field life. Usually, a major threat to the smooth transmission of radiofrequency is the difficulty for IoT gateways to continue working under severe weather conditions. In this regard, you should choose a recognized supplier that can ensure that the LoRaWAN gateway will have lightning protection and grounding and fully correspond to a reference design.
The Threat of Lightning and the Way of Ensuring Trouble-Free Field Life
Understanding and dealing with the threat of lightning has evolved through the centuries. With the development of technologies and human knowledge, people started to understand that protection system of the antenna requires special attention. From the mid-18th century experiments of Benjamin Franklin and others related to lightning rods, this understanding has evolved, culminating in modern standards for lightning protection system design.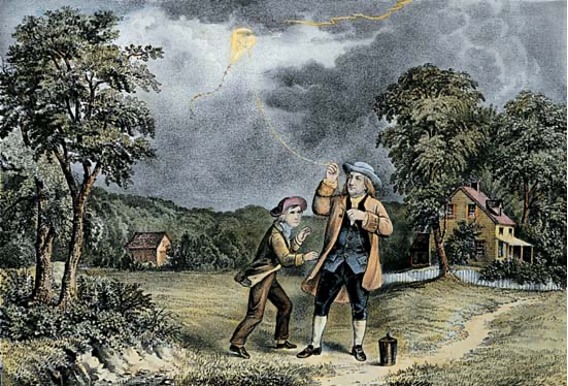 Standards of Robust Surge Protection Devices
Together with new discoveries, started to evolve a lot of standards for tower-mounted radio equipment protection. These standards are recognized around the world and considered to be a reference point for manufacturers dealing with LoRaWAN gateway lightning protection.
Standards such as the National Fire Protection Agency NFPA 780 "Standard for the Installation of Lightning Protection Systems" and IEEE C62.41 "Guide on the Surge Environment in Low Voltage (1000 V and Less) AC Power Circuits" provide general installation guidance in the USA.
International standards, in turn, such as the IEC 62305 "Protection Against Lightning" standard series and ITU-T K.39 "Risk assessment of damages to telecommunication sites due to lightning discharges" also provide guidance.
Industry standards, particularly for Europe, cover basic Electromagnetic Interference Immunity requirements but these immunity levels are not sufficient for tower-mounted environments involving power and data feeds and an antenna, especially against the effects of lightning. That is why arises a need for additional LoRaWAN gateway lightning protection.
Modern Tower Mounted Radio Equipment
Although the fundamental protection techniques are well established for electrical system installations, the susceptibility to damage has rapidly changed in more recent times. This is particularly true when an antenna gain is involved.
For example, radio equipment such as a gateway is often deployed with a height advantage required by their antennas to give them good RF exposure to the sensor field but this same advantage for wanted signals becomes a disadvantage for unwanted "signals" emanating from a lightning strikes. With this in mind, TEKTELIC Communications Inc. has developed outdoor gateways that can withstand electromagnetic interference. For example, TEKTELIC KONA Mega Ex Gateway has a hardened enclosure and easily works even in harsh outdoor conditions. Besides, this gateway has been designed with full understanding that the protection of the antenna requires special attention that's why it has been rated IP67 enclosure.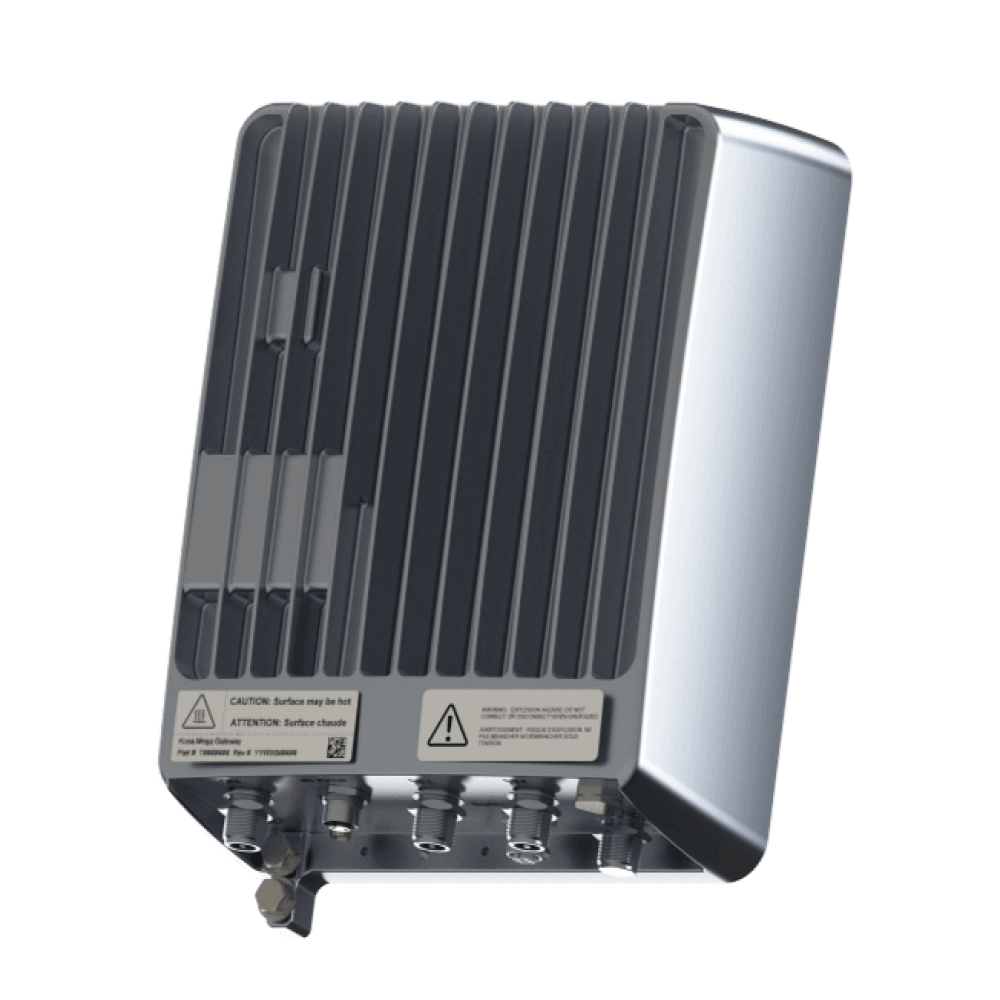 Going Beyond Standards
While the above-mentioned standards deal with best practices for general site protection, designers also need guidelines for specific components within a system, such as a tower-mounted gateway with antennas. While there are industry standards for equipment surge protection, such as ITU-T K.44 "Resistibility tests for telecommunication equipment exposed to overvoltages and overcurrents", Telcordia GR-1089 "Electromagnetic Compatibility and Electrical Safety", or the IEC 61000-4 series standards such as IEC 61000-4-5 "Electromagnetic compatibility (EMC) – Part 4-5: Testing and measurement techniques – Surge immunity test", these standards fall short on ensuring survival in the deployment scenario of a tower-mounted gateway with antennas.
Be especially aware of phrases such as "meets IEC 61000-4-5"; not only do these standards cover a wide range of test setups and levels but, undoubtedly, any such testing to standard is not sufficient. To manage this situation, TEKTELIC Communications Inc. has drawn on its decades of radio and antenna deployment experience to develop in-house testing appropriate for tower-mounted deployments.
Protection and Grounding
Ground lightning will go to earth, nothing can stop it. When lightning strikes a tower, the energy will flow to earth through all paths according to the law of least resistance. Tower-mounted equipment forms part of this lightning path. From an RF antenna and its connection to the gateway through every electrical interface which continues down the tower, such as DC power, Ethernet, and even the gateway grounding conductor, lightning energy will flow to earth.
While a direct lightning strike itself may be well over 100kA's of peak current, most of this energy is expected to flow freely through lightning rods and the tower grounding network to the ground. With proper grounding, the gateway interfaces may see surge levels in the region of 10kA's which the surge protection devices must accommodate but there are still a lot of issues to consider.
Grounding
Usually, the most exposed system component is the antenna which must be well bonded to the grounding system to minimize surge energy on the RF feeder to the gateway. To protect the antenna itself, one or more air terminals, often called lightning rods, must be installed to prevent lightning energy from directly reaching the antenna. Lightning rods are an often overlooked first line of defense in antenna and equipment protection.
Antenna Protection
With lightning energy flowing from the antenna connection, the first level of gateway lightning protection is afforded by the optimum grounding of the gateway chassis to the grounding system. TEKTELIC outdoor gateway grounding components, in turn, include a dedicated grounding point facilitating the implementation of a dedicated heavy-gauge grounding wire connection through industrial double stud copper compression lugs. Connecting this ground point as direct as possible to the site ground rods or grounding electrode using a minimum #10 AWG copper conductor provides a low impedance return path to earth for lightning current.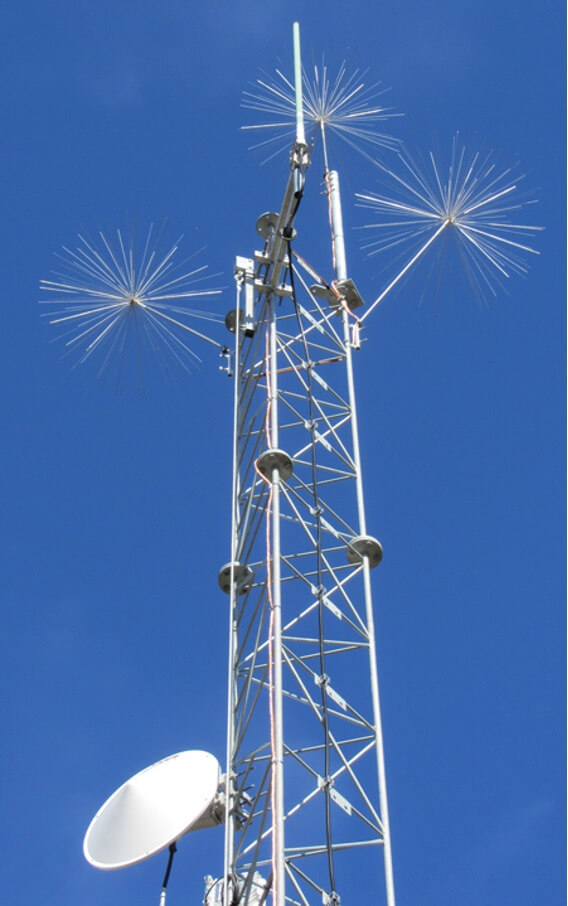 How Can TEKTELIC Ensure Gateway Grounding and Protection?
TEKTELIC has quite an extensive outdoor gateways portfolio, which follows the necessary grounding requirements and protection standards. For instance, the typical outdoor gateway TEKTELIC Communications offers to the market has a grounding system of copper and aluminum grounding components that provides a low impedance path for lightning energy to reach the site grounding point.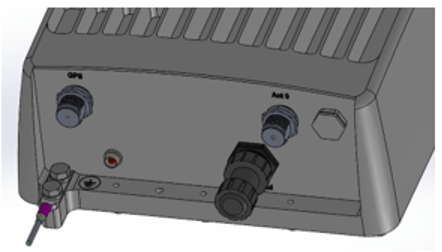 Interface Protection
Although much of the energy from a lightning strike will exit through the Gateway chassis and its ground connection to the site grounding point, invariably a significant amount of energy will still exit through any copper power or data interfaces. At the same time, TEKTELIC outdoor gateway interfaces contain built-in high current surge protection devices on these interfaces. These lightning protection devices prevent overvoltage breakdown of the power and data interface components, lightning allowing energy to flow freely from the antenna connection to the ground following the paths of least resistance.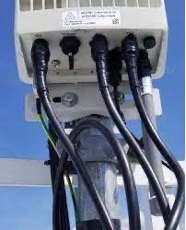 Systems Design
From design inception, great care is taken in systems design, studying the lightning surge current paths through the gateway. This process includes SPICE simulation of the equipment lightning protection and grounding along with actual laboratory lightning surge testing. Since lightning is a repetitive statistical occurrence, these surge protection devices are designed and rated for multiple hits.

All TEKTELIC gateway interfaces are specified for a minimum of 10 lightning strikes at the specified lightning current levels. Finally, while it is first and foremost imperative that equipment survive a lightning strike, it is also desirable to have minimal disruption of network operation associated with an event. To this end, all TEKTELIC gateways also undergo testing to ensure a minimum of power disruption occurs as a result of power feed transients. Power transient testing covers voltage dropouts, swells, and spikes associated with lightning events.
Things to Remember
Real-world deployments for IoT Gateways are subject to levels of Electromagnetic Interference far beyond anything specified in industry standards. The question of whether is lightning protection installed is only the start. The equipment itself must be designed to survive such deployments with robust surge protection devices and grounding. TEKTELIC's design heritage imparts a sound understanding of what is required and the associated design solutions for ensuring field reliable equipment.
The use of reliable gateways with protection from lightning and grounding systems will ensure the proper functionality of your network server. So, if you want to be sure of the operational capacities of your gateways, contact the TEKTELIC sales team, and discover the world of reliable IoT devices.
To be informed about our
latest news 
subscribe to our newsletter