5 Reasons to Implement IoT in your Industry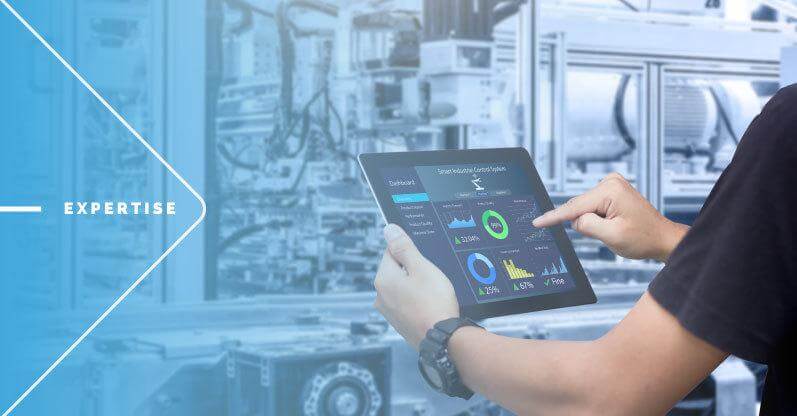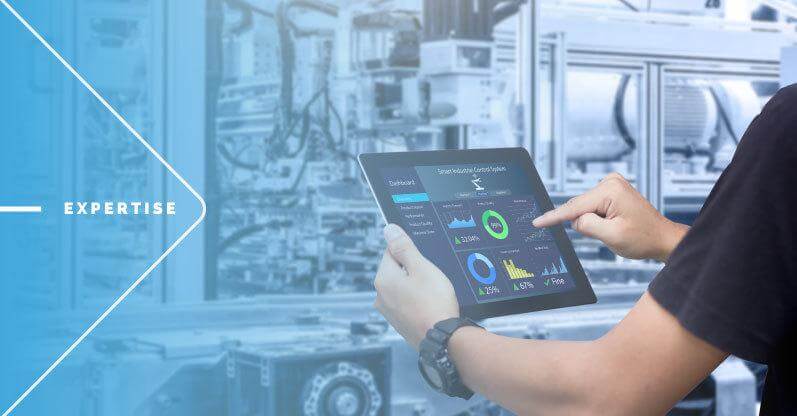 The Internet of Things (IoT) is the next big thing in the industrial world. In this article, we identify 5 main benefits of IoT in the industry and explain how it can be used to enhance the work environment, improve quality, and reduce costs.
If you're in the manufacturing industry, you've probably already heard of the Industrial Internet of Things (IIoT). But what exactly is it and why is it important? IIoT combines a variety of emerging technologies to improve processes, unlock previously untapped revenue, and create better-quality products. This technology is becoming widely adopted in many industries, including healthcare, manufacturing, construction, and retail.
The use of Internet of Things (IoT) technology allows manufacturers to automate processes and free workers from repetitive tasks. IoT devices can be used to monitor production processes and analyze real-time data or even they can be connected to smart locks and surveillance cameras. IoT devices send unstructured data to gateways, which analyze it and then send a response right back. Sending unstructured data ensures that IoT infrastructure follows data security measures and that this unstructured data will not be compromised by third parties. They can improve supply chain efficiency and identify new revenue streams. They can also detect damages or defects in an assembly line, resulting in decreased errors and better-managed services. What is more, with the help of advanced analytics and RFID tags, these devices can help companies improve their products to better satisfy customers.
As you see, the benefits of IIoT solutions are numerous. They can help reduce the risk of manufacturing and operational errors, and can even reduce the risk of cyber security breaches in companies. You will be surprised, but according to the Cyber Security Trends survey, 37% of security breaches were caused by human error. It confirms that any data security measures can prevent a person from a mistake but they can prevent a machine from it. What is more, the use of sensors in IoT solutions can help manufacturers offer quick and responsive support for their customers.
Why are the IoT Devices Becoming so Popular?
The IoT industrial revolution is changing the way businesses do business. Instead of sitting in a brick-and-mortar office, they are now able to work from anywhere, providing customers with the best products. The IoT revolution has enabled mid-sized and small businesses to expand their reach and hire more remote workers. It even helps some companies to save on office leases. These new opportunities are making the Internet of Things (IoT) even more valuable for businesses in different industries.
The IoT is already making its way into the business world. More than 25 billion 'things' are already connected to the Internet and another 75 billion are expected by the end of 2025. The IoT is still in its early stages and most deployments are still in the trial stage but despite this, IoT implementation has already proved its effectiveness. As technology develops, more devices will be added to the ecosystem. It is even possible to say that in the nearest future, each IoT device will have its digital twin.
IoT technology has been growing in popularity for years, but it is only recently that this technology has started to gain wider acceptance. However, as the number of connected devices grows, the number of vulnerabilities increases. While there are many benefits of IoT, it also has its drawbacks. If you are considering using the IoT to transform your business, you need to understand the risks and that is why it is more than necessary to thoroughly research the business opportunities IoT devices can open and how is it compatible with customer preferences.
Thoroughly Approach Network Security in the IoT Project
Whether you are in the transport industry, manufacturing, healthcare, agriculture, or smart cities, IIoT can help you increase the productivity of your operations and reduce downtime. It can also help you make informed business decisions. But while IIoT can boost digital transformation efforts, it also brings with it a number of new security risks.
As industrial entities add more technology, they must take steps to secure their systems. Those steps include implementing new security technology and updating their security architectures. They should also have a dedicated team for security. These steps will help them mitigate the effects of attacks.
Industrial IoT platform
Using an Industrial IoT platform helps you with enabling network encryption and security. This technology can boost digital transformation and improve operations in a variety of industries. Whether you are an organization that needs to integrate IoT devices into your manufacturing operations or you are looking to enhance customer service, security is crucial.
If an organization does not invest in IoT security, it could expose itself to a serious security breach. Even more serious, hackers could use IoT devices to gain access to their network and cause a business shutdown.
Edge Computing
Using IoT platforms and edge computing can help you increase network security. The edge is where the data is stored, and an IoT platform can help you get that data encrypted. This is the best way to secure your network.
Using edge computing to secure data produced by sensors can be a very effective way to improve network security. This is especially true when all the data is processed locally, as opposed to sent to a centralized cloud server. Using this technology will enable companies to streamline their processes and improve the overall quality of their products because analyzing data locally is way cheaper and more secure.
One of the most exciting aspects of edge computing is the potential to collect, analyze and store unstructured data collected more locally. This is especially important when the data stored has to be transferred over a slow internet connection. It also enables faster business decisions and provides insight into product assembly.
Access Control
There are two primary methods to implement access control. One involves the use of smart contracts to define access rules. Another approach uses attribute-based encryption to ensure IoT security. In this case, only users who meet the access control policy can access sensor data. This type of access control provides more robust security than a single sign-on solution.
The traditional approach involves a third-party trusted server. However, this solution has problems due to a single point of failure. Also, it may introduce a new entrance for attackers. This is because attackers can access IoT devices via APIs. This can increase the risk of a data breach because it can allow hackers to access private information. It also allows cybercriminals to execute MITM attacks. They can listen in on private communications and perform DoS attacks.
The proposed access control architecture based on cloud computing technology can address these issues. It uses a combination of symmetric encryption and an ABE algorithm. In addition, the address hash value of encrypted data is stored in the cloud. The proposed access control architecture is flexible. It can also provide a secure data-sharing mechanism. It enables enterprises to take advantage of growth opportunities offered by IoT.
Pay Attention to the Integration of Information
Another important part of an IoT project is the integration of information from other devices involved and trying to identify patterns of their synchronization. This is especially important when it comes to maintenance. It can allow your company to detect errors in the supply chain and correct them. You can also use data to predict and prevent machine failure.
Many organizations are still using legacy systems and devices. They are easy targets for hackers. For example, PLCs are normally connected through LAN or serial interfaces. This creates a problem because many of the communication protocols are proprietary.
Carefully Approach Implementation Process
IoT implementation depends on many factors such as successful machine learning software, sufficient network capacity, and a protection system, which can minimize security breaches. IoT implementation steps usually include the preparation stage, choosing, deployment, and operation start.
In order to build an IoT ecosystem, you need to be prepared. You have to spend time gathering data on the best providers, and, more importantly, requirements for device security and IoT environment organization. In the next step, when you have all the useful data, you need to list your business objectives, choose a single IoT device, and outline how this device will help to achieve them. It is important to understand what kind of data you expect to have, is it traditional business data, raw data gathered, or telemetry data? Only when this question is answered you can choose a data-gathering sensor, a bunch of IoT-oriented devices, and try IoT service first-hand.
An effective IoT implementation is not as easy as it may seem, which is why you need a reliable partner in it, a unique resource identifier, and tightly controlled firewalls to succeed. Without IoT expertise and provider support, you won't be able to create IoT networks automatically collecting data and addressing industrial IoT requirements. We, at TEKTELIC, understand these implementation challenges and have created end-to-end solutions ready to be used out of the box, so you don't have to be a computer engineer to use them. We are also ready to address any security concern you may have and help analyze collected data from new technologies and organize existing systems. Partnering with TEKTELIC, you will have a successful implementation of advanced technologies.
Main Reasons for IoT Technology Implementation
Actually, there are a lot of reasons for the implementation of IoT technologies. Besides obvious reasons for the implementation of IoT initiatives like improved productivity, cost reduction, and the improvement of customer experience, IoT technologies are worth implementing because they can optimize the whole range of business processes. For example, IoT devices can monitor energy usage and provide building managers with valuable data on how to optimize their buildings. In addition to these, IoT devices will most likely contain sensors that collect data and provide for preventive maintenance. Because of the vast range of uses of IoT, it is vital to consider how it will affect your business.
1. Reduction of Costs
Cheaper Analysis
Properly organized IoT architecture can greatly reduce the costs, your business has now. If you're in the business of manufacturing, you know that it's vital to reduce costs and ensure employee safety at the same time. However, it may seem impossible due to the need to spend a lot on the manual monitoring of a business operation. IoT can help you avoid costly problems by sending real-time data directly to your company's computer and artificial intelligence will do big data analysis for you. The data can be used to troubleshoot and rule out problems before they even start, saving you money on maintenance costs or other manual digital services. And that's just the tip of the iceberg. With IoT, you'll be able to make the right decisions for your business, which also will lead you to reduced costs and higher efficiency.
Cheaper Monitoring
It is important to note that IoT technology can help you optimize your manufactory or plant in terms of safety and accessibility. For instance, in the mining industry, smart sensors can monitor air and detect toxic gases, alerting site managers and employees to prevent accidents. Other IoT sensors can monitor heavy equipment and make them more productive. Overall, this can lower costs and increase returns. In some cases, you can also use IoT architecture to automate your processes, which saves you money and time.
Reallocation of Costs
In addition, by implementing IoT and making your data more accessible, you can improve your customer experience and cut costs at the same time. First of all, reduced costs can help your business to reallocate your budget and gain a competitive advantage due to the ability to offer customers new products and services on the money saved. What is more, reduced operational costs may help manufactures to integrate new business models, which in the nearest future will improve productivity and satisfaction of the workers. Considering, the abovementioned facts, IoT sensors can really help companies to become leaders in their industrial sector because of the cost reduction.
Regardless of size, an IoT solution will reduce costs for your business. You can use IoT to track your production processes, from your suppliers to your customers. It can also be used for inventory management, allowing you to focus on the work you love and reduce energy costs. The manufacturing industry is one of the biggest areas where IoT solutions can help you reduce costs. The technology can also improve productivity by eliminating bottlenecks and offering conditional analysis. This way, you'll be able to reduce your overall workload while still delivering high-quality service.
2. Easy Access
Facilitation of Access
Implementing IoT is key to successful access to all the business processes of a plant. It can make the life of an engineer much easier, as they won't need to learn wireless network connectivity technology and how to manually set it. The advantage of this approach is that the engineers can focus on data collection and analysis instead of setting the access. This will reduce the time it takes to deploy the equipment and complete the IoT project. It will also result in an improved solution and a faster time to market the products.
Connectivity of Devices and Workers
In addition to facilitating manufacturing processes, IoT implementation simplifies the process of creating a network of interconnected devices. The IIoT strategy enables diverse devices to connect with each other, and an IoT central server can process data collected by the devices, sending it to the end-users. They can also integrate with IT applications, which are critical to successful Industrial IoT deployments. The IIoT platform makes it easy to set up and maintain access to information. It can be deployed in several different sectors of one manufactory. Simplified access provides a simple, secure, and cost-effective system for the Industrial IoT.
Why does Traditional Access Solution Lose to its Digital Twin?
IoT technologies are a must for plants and manufacturers, which many companies have already admitted. Traditional access solutions, in the contrast, have many disadvantages. They require a large investment and can result in a slow ROI. Traditional access solutions can be costly and unreliable. What is more, they require different SIMs and management IoT platforms and can't support IIoT-compatible devices.
3. Efficiency & Productivity Gains
Prioritization
The integration of IoT projects to more companies is a powerful way to integrate operational and IT systems. By integrating machines, smart sensors, and software applications, it is possible to connect and monitor operations and make them more efficient. With this integration, data can be collected from multiple sources, which helps managers to prioritize the most critical operations. In addition to measuring the status of machinery, the data can also help to predict failures. With IoT applications and IoT platforms, production teams can plan better and increase resource employment.
Need Proves?
It is already a proven fact that smart manufacturing technology can optimize human labor in the factory and ensure better-managed services. A great example is the case of the Ford Valencia engine factory in Spain. The pilot program employs about 700 workers across 21 workplaces. Ford uses the IoT network technique to build smaller ergonomic job stations and to improve their production process.
They started with wearable technology in order to better understand worker exertion but moved far beyond this and started to use IoT for business analysis and overall digital transformation of the company. These concepts are applicable to computers as well, in order to recognize bottlenecks and problems in production lines. What is more, industry businesses expect Industrial IoT to increase revenue by around $156M per year based on data and analytics.
4. Better Analytics
Predictive Maintenance Analytics
Industrial IoT is one of the powerful IoT tools for improving uptime and asset longevity. When combined with analytics, it can improve business processes and increase competitive advantage. For example, it can increase the reliability of equipment and improve the serviceability of manufacturing operations. Additionally, when combined with smart analytics, IIoT can improve the uptime of critical assets and enhance operational performance. In fact, it is estimated that 82 percent of all assets exhibit a random failure pattern, which can be prevented with predictive maintenance.
Key Performance Indicators Analytics
There are many benefits to improving your analytics capabilities with industrial IoT. For instance, you can automate the process of calculating key performance indicators in real-time, and monitor office premises from anywhere. Remote monitoring of big data analytics, possible with IoT infrastructure, provides for digital transformation necessary for improved customer experience. It also provides historical data, which can be used for monitoring the quality of manufacturing and supply chains management.
Business Decisions Analytics
The Internet of Things is an increasingly common technology that can be easily integrated with cloud-based technology. This new technology enables new use cases and helps businesses make better decisions. Some of these emerging use cases are already mainstream, while others are still in their early stages. Smart data analytics, computer vision, and scheduled maintenance are a few examples. By approaching the IoT market from the right angle, you can easily integrate cutting-edge technology into your company, get a faster ROI, and lower initial expenses.
5. Improved Industrial Insights & Customer Experience
IoT technology provides data-intensive business applications with more analytical possibilities. Integrating IoT into business models can help companies to improve customer service. When companies understand the ways a customer uses a product they are better geared to satisfy their needs. For example, it is now possible for a predictive system to create the best possible furniture for the customers, based on the structured data generated by artificial intelligence.
Using Industrial IoT is important for optimizing asset utilization. Hundreds of minutes lost during manual production processes can add up to a considerable amount of money. It is easy to see how this can affect a company's bottom line. In the case of power plants, oil refineries, and military systems, even a few minutes can add up to thousands of dollars. In addition to optimizing asset utilization, industrial IoT data can be used to identify potential issues and prevent them before they occur.
TEKTELIC Industrial Solutions: What we Suggest
TEKTELIC Company provides a wide range of industrial solutions that can help to increase productivity, customers inflow, and other benefits connected to IoT deployment. Our devices follow LoRaWAN communication protocols, which allow you to build a reliable IoT system. The solutions TEKTELIC offers stand out from other companies because we offer not just an IoT device for sale but also give you continuous support on the preventive maintenance of industrial assets, the best way of integration to the business models the company already has, and more optimized strategies to attract new customers.
The main IoT device TEKTELIC offers for the Industrial area is KONA Mega Ex Gateway. TEKTELIC KONA Mega Ex Gateway is a versatile solution for automation applications in the LoRaWAN network. Its dual-antenna support for RX diversity along with double simultaneous Tx Channels make it a flexible choice for a wide range of applications. In addition, it enables massive scalability, supporting up to 12 million messages per day. This gateway is perfect for both public and private network operators' Full Duplex, multiple Rx, and Tx Channels. In the context of the upcoming industrial Internet of Things standard, it is ideal for the interfacing of IoT systems with industry-specific control systems.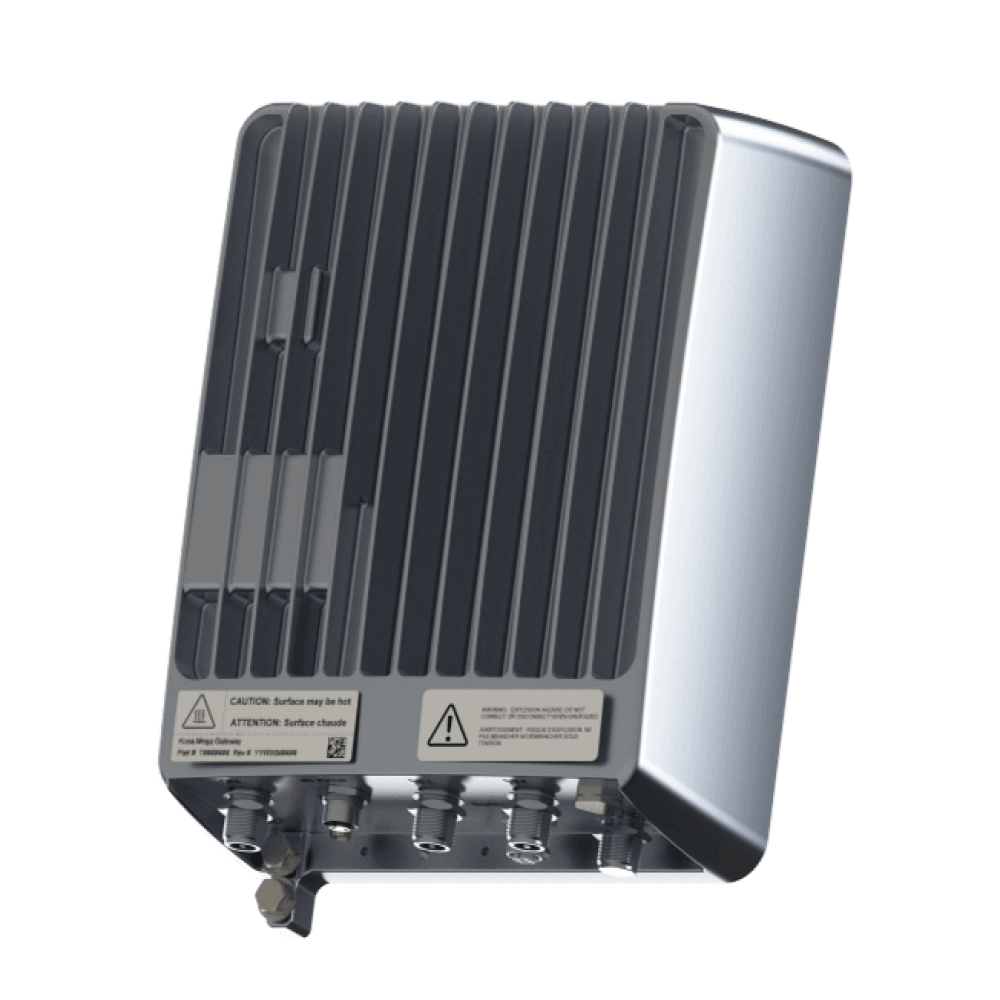 Another device, TEKTELIC has for the industrial area is ORCA. This IoT device is a perfect solution for locating your assets in the field. Also, ORCA supports secure, reliable, and transparent communication protocols with other IoT devices. It monitors the entire lifecycle of the devices and makes them scalable. Its flexible architecture makes it possible to scale the deployment and manage different types of business. Its minimalistic design, in turn, supports various types of data storage space and visualization capabilities. This device has long battery life and can operate in extreme weather conditions, which makes it perfect for the industrial sphere.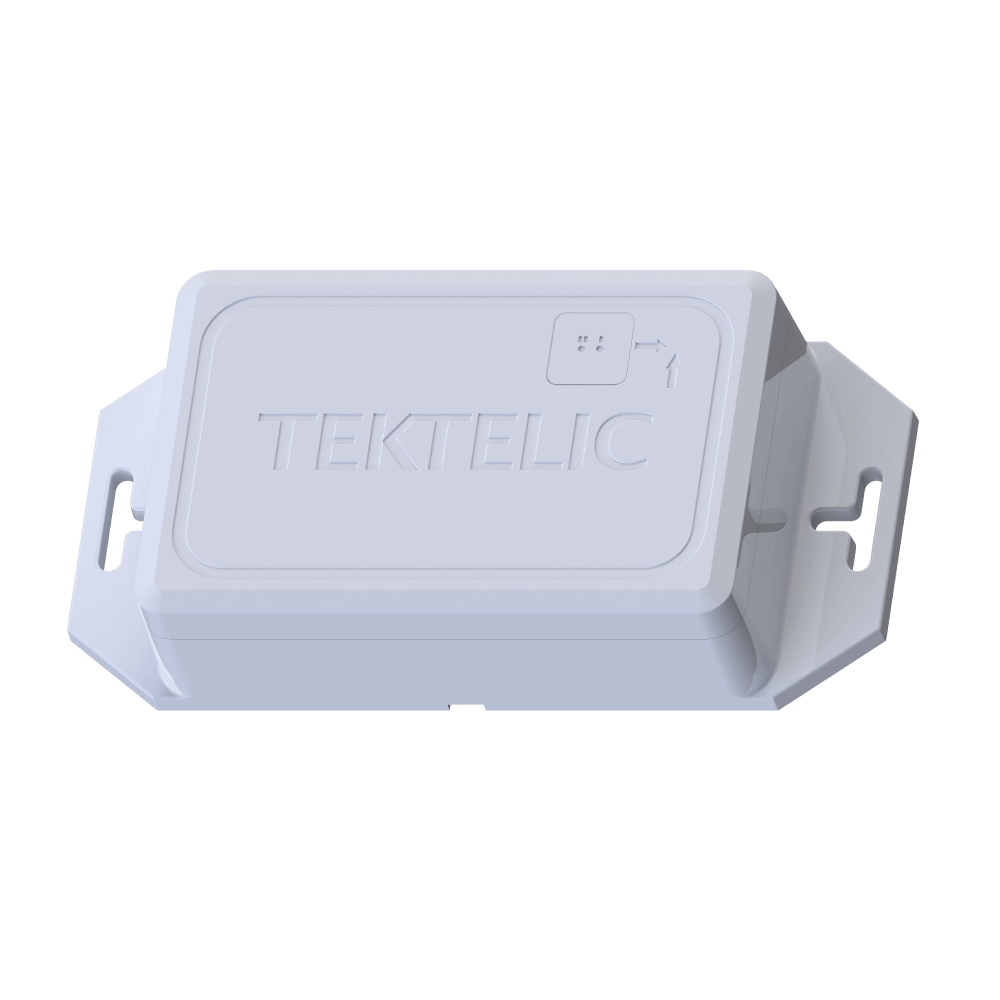 Speaking about industrial devices, we cannot fail to mention PELICAN EX. This solution is the best choice for you, in case you need to track and manage assets in difficult or hazardous RF environments such as manufacturing, shipping, or storage. It can work in extremely rough conditions with big amounts of dust, vapors, and combustible gasses. PELICAN EX is fully compatible with all TEKTELIC devices and can be integrated into our end-to-end solutions.
TEKTELIC Company offers a full range of IoT products and solutions, addressing a variety of industrial markets.
If you also want to optimize your industrial processes, be sure to contact us.
To be informed about our
latest news 
subscribe to our newsletter