Benefits of Joining the LoRa Alliance®: A LoRaWAN® Vendor View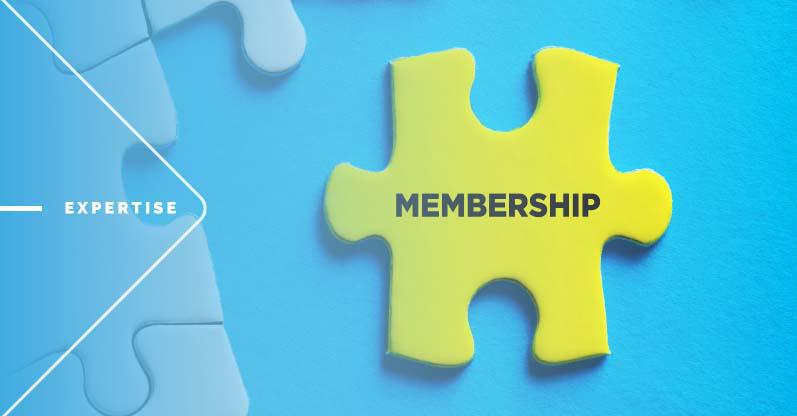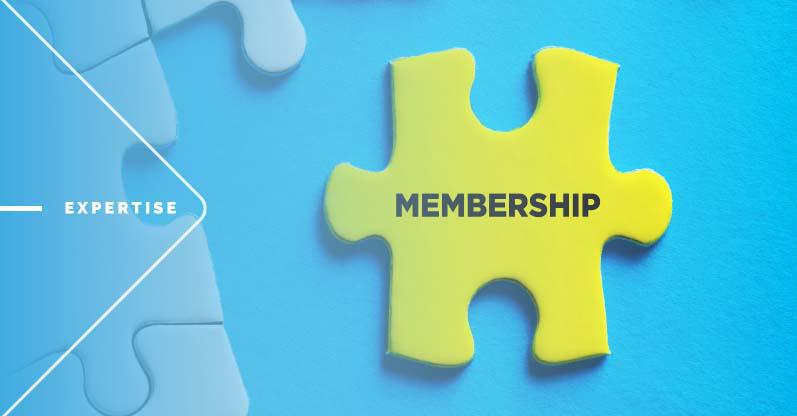 TEKTELIC is well known in the LoRaWAN® (Long Range Wide Area Network) ecosystem for the most comprehensive and best performance portfolio of LoRaWAN® IoT Gateways and Devices. In part, this is because the TEKTELIC team has a long history and experience in developing Carrier Grade 3G-5G wireless solutions for global Tier 1 integrators in the technology sector such as Nortel, Ericsson, Kapsch, Harris, and many Tier 1 and Tier 2 wireless network operators. However, TEKTELIC's strong design and development experience alone did not guarantee success in the LoRaWAN® space, it has been the open standard and dynamic ecosystem created by the LoRa Alliance® that has greatly contributed to TEKTELIC's success.
The Early Days as a Technology Sector Leader 
TEKTELIC was formed at the beginning of 2009 from the Nortel wireless Basestation development team, prior to the Ericsson buyout of the Nortel wireless business unit. From 2009 to 2016, TEKTELIC focused on the development of 3G and 4G Basestation solutions and high-performance Radios for wireless network operators, other specialized solutions, and defense applications. Today some TEKTELIC products are used for the control of high-speed trains in many countries, providing high bandwidth wireless connection to business jets, and wireless infrastructure to support very remote deployments. All of these products have a few things in common – they all are designed and developed for high reliability and dependability, minimum 10-year operational life (some products up to 20 years), best overall performance, and lowest Operation Cost of Ownership.
In addition, to ensure the best product performance, reliability and cost, all products are custom designed from day one including mechanical enclosures, digital and radio assemblies, RF filters and duplexers, power systems, and lower level, and application software. It is common knowledge in the wireless industry that it is impossible to build high-quality products from kits or off-the-shelf products, the same way it is impossible to build a highly reliable and high-performance car from off-the-shelf parts.
Emergence into the Internet of Things 
In 2015 TEKTELIC evaluated a number of LPWAN (Low Power Wide Area Network) Internet of Things (IoT) technologies to expand its business, and at the beginning of 2016 joined the LoRa Alliance®. TEKTELIC's decision was primarily based on the Open Standard of the LoRaWAN® protocol for secure Carrier Grade IoT LPWAN networks, its performance compared to other LPWAN Connectivity IoT technologies, the growing ecosystem of partners, and the well-organized LoRa Alliance® development scope and plan of records.
The LoRa Alliance® covers the Development and Promotion of technology, Marketing, Standard Evolution, Network Server and Application Server specifications, Device certification, Gateway performance specifications, and other areas. Most importantly, the LoRa Alliance® provides good exposure to new companies joining the Alliance and is diligent in becoming very familiar with the use cases and deployments in the ecosystem.
In short, unlike other Internet of Things standards and initiatives, the LoRa Alliance® has established itself as one of the most successful industry alliances in the technology sector and is very well organized with over 400 international member companies representing developers, network operators, enterprises, system integrators, manufacturers, certification bodies, analysts and even marketing agencies. It is a well-managed organization, just like the cellular 3GPP, but with a stronger focus on global IoT deployments.
As a Sponsor member of the LoRa Alliance®, TEKTELIC contributes to the development and evolution of the LoRaWAN® standard.  TEKTELIC shares its strong expertise in the design and development of high-performance, reliable and dependable LoRaWAN® Gateways, Devices, and Network Server that are deployed in more than 150 LoRaWAN® IoT networks and countries globally.
Why Join the LoRa Alliance®?
There are many rich benefits available to members of the LoRa Alliance® ranging from market development and promotion to technical consultation and even opportunities to help drive the overall technology and ecosystem forward.
Becoming a member of the LoRa Alliance® expands your organization's market reach for your LoRaWAN® products and solutions by expanding your brand visibility, increasing your authority, credibility, and reputation in the market, and of course by acting as a natural matchmaking entity as you become connected directly with other LoRaWAN® technology players who are primed to become partners and customers. Below is a summary of some of the key factors of how an organization can benefit by joining the LoRa Alliance®.
Joining the Ecosystem: As a LoRa Alliance® member you have direct access to engage with potential partners and customers in the LoRaWAN® space through organized working groups, regional and industry-focused committees, and sponsored events. This engagement often results in the development of complementary solutions utilizing the strengths of each organization respectively.  You also get to keep your finger on the pulse of the market to stay up to date on the use cases, solutions, and deployments generating the most traction.
Marketing Support: The LoRa Alliance® will help you expand your marketing reach through promotion, sponsored events, and content publications such as press releases, success stories, white papers, and interviews. As one of the fastest-growing industry alliances in the IoT space, LoRa Alliance® members benefit from increased visibility of both their brand and their solutions.
Driving the Evolution of LoRaWAN Standard: Joining the LoRa Alliance® gives you the opportunity to influence the evolution of the LoRaWAN® protocol specification and standard as you have a platform to introduce new features, influence and suggest regional parameters, help to define the LoRaWAN® security standard, and drive the mass certification standards to ensure all LoRaWAN® deployments adhere to the common standard.
Building Authority and Reputation: Becoming a member of the LoRa Alliance® gives your potential customers the confidence that the IoT solutions you are offering adhere to the global standard for secure networking and are interoperable with the solutions being offered by other ecosystem partners. This builds trust, confidence, and authority in the market. The LoRa Alliance® certification program also establishes the credibility of the products and solutions being offered by ensuring that these are operating in alignment with the published LoRaWAN® specification. These benefits contribute to the LoRa Alliance® emerging as one of the most successful alliances in the technology sector.
What is LoRa and LoRaWAN®?
LoRa is a Physical Layer and modulation technology (short for Long Range) that supports peak data rates of ~50 kbps and up to ~156 dB RF channel between the Gateway and Device or Sensors. This translates from a few kilometers in an urban environment to tens of kilometers in rural areas, similar to NB-IoT and CAT-M1 technologies.
The LoRaWAN® protocol is an Open Protocol Wide Area Network developed and supported by the LoRa Alliance® that uses the LoRa Physical layer for the interface between a Gateway, Devices, and Network Server.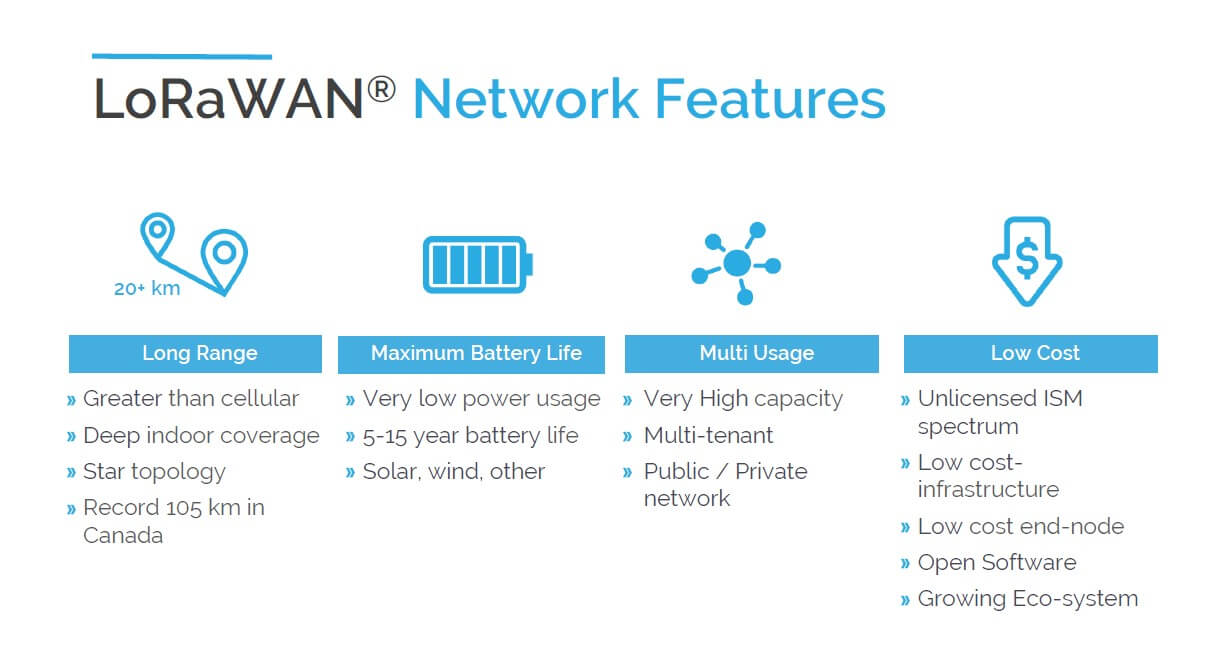 The advantage of LoRaWAN® networks as an LPWAN connectivity technology is long-range, low battery consumption for devices, and operation in the unlicensed (ISM) spectrum which translates to very low-cost deployments and operation.
Other technologies such as NB-IoT and CAT-M1 are deployed in the 4G-5G licensed spectrum which the U.S. operators pay on average from $100 million to $250 million for 1MHz 4G or 5G spectrum (2021 5G Auction in the U.S generated $81 billion for 280 MHz of 3.7 GHz spectrum, or $290 millions per 1 MHz).
A single outdoor LoRaWAN® Gateway that sells for approximately $1000 can cover a small town or hundreds of square kilometers in rural areas thanks to the long-range capabilities of the wide-area network. The range is highly dependent on the environment and obstacles in each location, but LoRaWAN® has the same or greater RF channel budget as other IoT LPWAN technologies. Essentially, entire countries can be covered with a minimum amount of LoRaWAN® infrastructure which operates in the unlicensed spectrum.
Comparing LoRaWAN® technology with more popular protocols such as Wi-Fi and Bluetooth uncovers an undeniable advantage in the extremely long-range and low power consumption. Both Wi-Fi and Bluetooth don't come close to LoRaWAN® in this regard. In addition, it is possible to deploy a battery-operated LoRaWAN® device in the field and forget about it for 10 years – a very convenient, and operationally efficient benefit of the technology.
Cellular Wide Area Network IoT technologies such as NB-IoT and CAT-M1 have similar coverage as LoRaWAN® networks and can re-use existing 4G infrastructure and telecom towers, which is stated as their most important benefit over the LoRaWAN® technology. However, the cost to deploy, maintain, and operate a cellular network is much higher than a LoRaWAN® network even without considering the 4G-5G licensed spectrum cost.
There are a few other LPWAN IoT technologies that operate in the unlicensed spectrum such as SigFox and Ingenue, but LoRaWAN® took a leading position globally because of the Open Standard for secure Carrier Grade IoT LPWAN Networks, technical performance, and LoRa Alliance® championship in the technology sector. Combined, this allowed LoRaWAN® to get adopted globally in a short amount of time, deploying over 150 public networks and 1000's enterprise networks and solutions and spurring 100's global vendors and solution providers to develop Gateways, Devices, and Applications to address the growing market needs.
About the LoRa Alliance®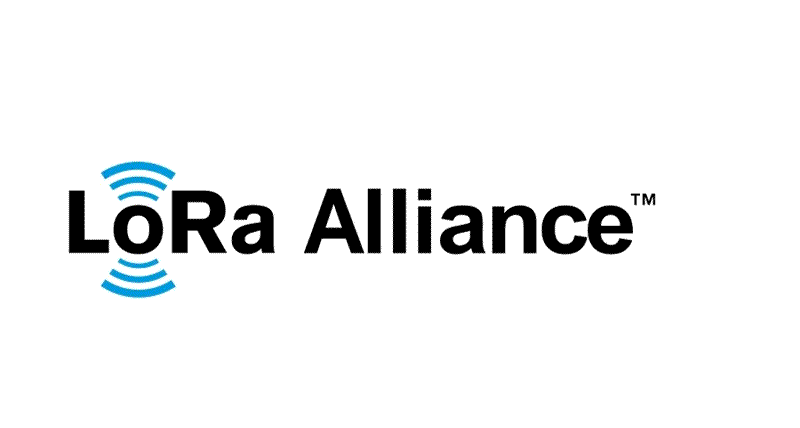 For additional information including LoRaWAN® news and recent LoRa Alliance® Press Releases and white papers, visit https://lora-alliance.org
The LoRa Alliance® is an open, non-profit association of members that believes the Internet of Things era is now. It was initiated by industry leaders with a mission to standardize Low Power Wide Area Networks (LPWAN) being deployed around the world to enable the Internet of Things (IoT), machine-to-machine (M2M), and smart city, and industrial applications. The Alliance members will collaborate to drive the global success of the LoRa protocol as the global standard for secure, reliable networking by sharing knowledge and experience to guarantee interoperability and LoRaWAN® security between network operators.
Ab
out TEKTELIC
TEKTELIC, a global leader in End-to-End IoT Products and Solutions, works to perfect the deployment of IoT Networks and Solutions for the best efficiency, high reliability, cost-effectiveness, and ease of operation. TEKTELIC IoT solutions are designed to work out of the box with little to no prior technical expertise from the end-user. This results in IoT acceleration and expediency. TEKTELIC solutions are not only unique because of how they are designed, but because of their ease of deployment, operation, and high reliability to help the consumer become a part of the IoT ecosystem.
For additional information, visit https://tektelic.com/
To be informed about our
latest news 
subscribe to our newsletter