Aware Buildings and TEKTELIC Partnerships
Water leaks in high rises can quickly lead to millions of dollars in property damage. This is especially true in major cities like New York, Aware Building's headquarters, and home to some of the world's priciest real estate. 
While some water leaks may be evident, others can go undetected for weeks or longer, causing costly damages over multiple floors. In addition to the financial costs is the risk of rising premiums by property underwriters following a leak. Also to consider are the headaches associated with scheduling contractors and the temporary displacement of tenants during apartment repairs. In short, everybody feels the pain: the building owner, the building manager, and the tenants. Having developed a suite of advanced prop-tech solutions, Aware Buildings is able to position an array of gateways and sensors to monitor not only leak detection but other critical aspects of any building anywhere in the world.  
They are simple to implement, cost-effective, and as non-intrusive as possible. Once a network is available, our solutions are up and running in hours providing building staff with text and e-mail alerts in real time. 
The Challenge
 Sensors are not new but historically have been both an expensive solution with complicated installation procedures. Tenants are reluctant to invest in something where they don't receive an immediate benefit. This has led to a culture in of reactive maintenance in the world of building management.  
Up until now, implementing a sensor solution involving hundreds of sensors relied upon LOCAL wireless technologies — with ranges of 50-100 feet. Technologies like WiFi, Bluetooth, Zigbee, and Z-wave required the installation of many local gateways (several per floor) throughout the building, and also demanded complicated pairing and provisioning of sensors. With Aware Building's adoption of LoRaWAN, it is now possible to deploy with only a few gateways and sensors that require nothing more than simply being turned on. It is an exciting, cost-effective, and powerful technology solution that can be easily set up within a week or two. 
The Solution
Being a part of the IoT space, Aware's sensors can be easily deployed in separate suites, mechanical rooms, and common areas. Sensors are designed to transmit or "chirp" data to the gateways every few minutes. Data and alerts are communicated through a free app that features easy-to-set-up alerts via text messages, email, or a dashboard. All hardware is pre-provisioned before being sent to the client, making the sensor/gateway network a true plug-and-play solution.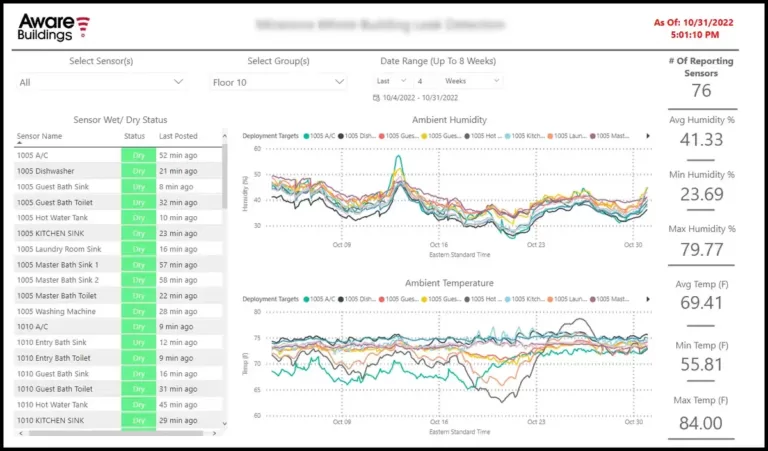 Case Studies
Columbus, OH 
A 100 luxury high rise in Columbus, OH faced ongoing water leak claims as a result of HVAC component failures and condensate pan overflow, washing machines, ice machines, sinks, and other areas. Aware's Leak Detection was installed in targeted tenant areas to monitor potential leak sources. Aware detected and prevented 6 leaks in 60 days saving thousands in costly damage and cleanup. The building manager was notified immediately by both text and email.  
San Francisco, CA 
A 29-story 77-unit luxury residential co-op in San Francisco built in 1963 faced persistent leak issues throughout the building. In total the building suffered $12 million in water damage with a few apartments needing to be demolished and rebuilt. Recognizing this persistent threat, the building board deployed Aware's Leak Detection solution using LoRaWAN technology to assure comprehensive, building-wide coverage. A total of 12 leaks were detected within the first six weeks of deployment. The building manager was alerted via text alerts allowing on-site staff to act immediately to prevent catastrophic damage from cascading through multiple floors once again.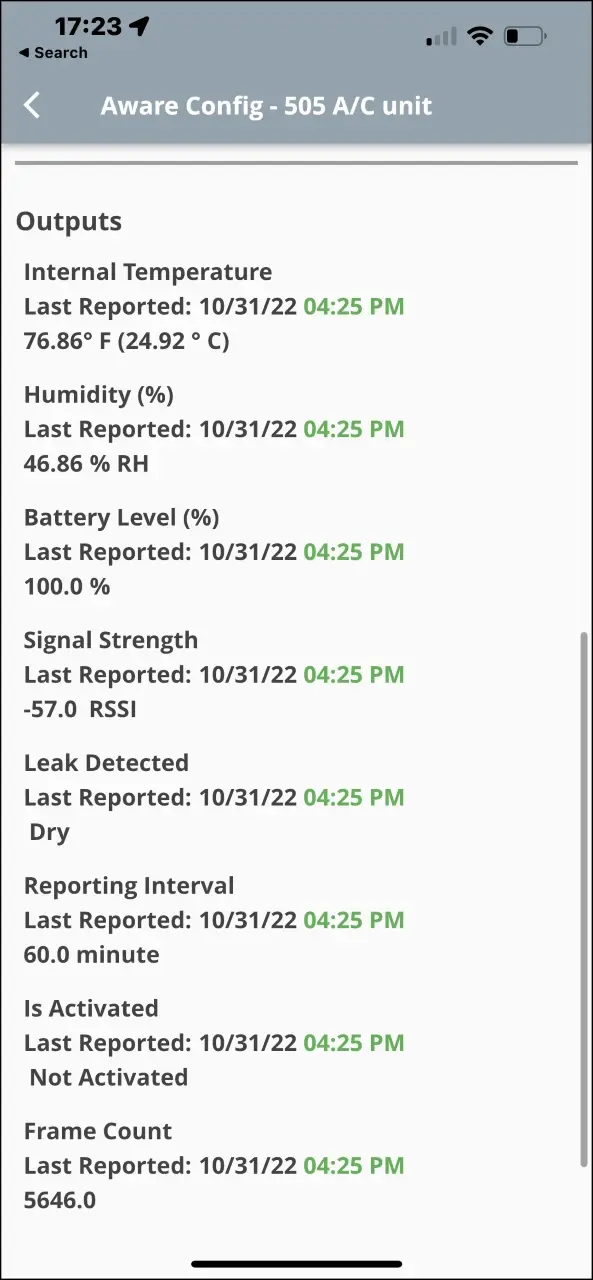 LoRa Technology
LoRa technology in this solution plays one of the most important roles as well as ensures well-connected infrastructure for real-time monitoring. LoRaWAN is a network protocol for enabling long-range wireless communication and sensing applications. It is supported by the LoRa Alliance and has been approved as an official communication standard. LoRaWAN is a robust technology perfect for smart buildings, large facilities, and maintenance purposes.
TEKTELIC KONA Micro IoT gateway, in this case, has proved the needlessness of redundancy. The popular misunderstanding is that for successful smart homes monitoring is necessary to install a huge number of gateways. This is not the case. The partnership between TEKTELIC Communications and Aware Buildings has shown installs with sensor/gateway ratios in the range of 62:1 up to even 125:1 on a building equipped with 3,000 sensors. The LoRa technology allows the building manager to avoid water leak damage and significantly lower hardware-associated costs, which cannot be avoided with a Wi-Fi-based technology.
The KONA Micro LoRaWAN Gateway can guarantee a 4-hour battery backup and will keep receiving data from smart home sensors and transferring it to the end user even when the main power source is shut down. Additionally, the KONA Micro IoT gateway has an integrated 3G/4G modem for extended connectivity options.
Conclusion
A water leak detection system can quickly help a building manager find the source of a problem and allow them to take immediate measures. With the KONA Micro IoT gateways and Aware Sensors, customers can avoid financial catastrophes associated with water leaks. The current solution consists of smart devices, gateways, and background, proprietary software creating a full end-to-end solution. It is a great monitoring choice for buildings, and it is now quickly catching the attention of building associations, owners, and building managers worldwide.  
Partner's Contacts: 
Aware Buildings
https://www.awarebuildings.com/
To be informed about our
latest news 
subscribe to our newsletter