What is ATEX?
In industries where explosive or flammable substances are present, ensuring safety becomes paramount. One vital aspect of maintaining safety in hazardous locations (HazLoc) is the implementation of the ATEX (ATmosphères EXplosibles) directive. ATEX is the European Union's standard for equipment and protective systems used in potentially explosive atmospheres.
How does it work?
HazLoc refers to any location that contains substances such as gases, vapours, fibres, or dust in sufficient quantities to cause ignition. To allow electrical devices to operate safely in HazLoc, they must possess ATEX or IECEx certification. The certification ensures that the devices will not ignite in such environments, reducing the risk of explosion or fire.
ATEX vs IECEx
While ATEX is the European Union's directive for explosive atmospheres, IECEx (International Electrotechnical Commission System for Certification to Standards Relating to Equipment for Use in Explosive Atmospheres) is an international system for certification. IECEx was developed to facilitate global trade in equipment and services for HazLoc while maintaining the necessary safety standards.
Area classification
Area classification is a crucial element in ATEX. It defines the type of place where products may be used. The groups in area classification include:
Group I – Mines susceptible to firedamp
Group II – Gases

IIC – Acetylene and hydrogen group
IIB – Ethylene group
IIA – Propane group (oil & gas)

Group III – Combustible dust and flyings

IIIC – Conductive dust
IIIB – Non-conductive dust
IIIA – Combustible flyings
In addition to the groups, zones are established based on the likelihood of a concentration of combustible material. The zones are as follows:
Group I and II zones

Zone 0
Zone 1
Zone 2 (group II only)

Dust zones
Equipment protection level
The equipment protection level (EPL) is the level of protection assigned to equipment based on the likelihood of it becoming a source of ignition. Equipment must be properly certified and rated to ensure that it meets the specific requirements for use in a hazardous environment.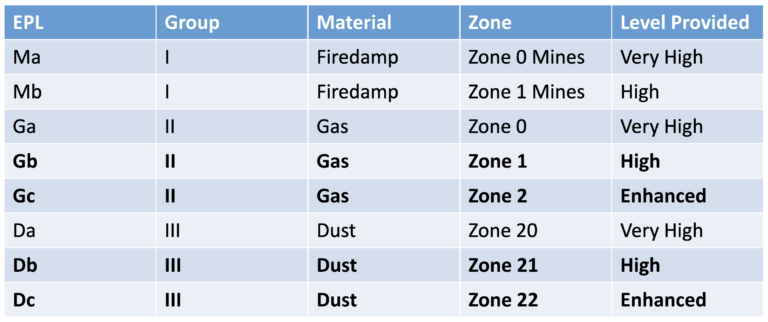 Temperature classification
Temperature classification indicates the maximum temperature the equipment can reach. It is compared to the auto-ignition temperature (AIT) of the combustible material. Different classification systems exist for various hazard groups:
Group I mining has fixed temperature limits.
Group II gases have temperature classifications.
Group III dust and flyings have temperature classifications with specific temperatures. Examples include T135°C.
Type of protection and standards
ATEX provides a range of standards governing the type of protection for equipment and systems used in explosive atmospheres. Some key standards include:
General requirements (EN/IEC 60079-0)
Flameproof "d" (EN/IEC 60079-1)
Pressurization "p" (EN/IEC 60079-2)
Powder filling "q" (EN/IEC 60079-5)
Oil immersion "o" (EN/IEC 60079-6)
Increased safety "e" (EN/IEC 60079-7)
Intrinsic safety "i" (EN/IEC 60079-11)
Non-sparking "nA" (EN/IEC 60079-15)
Non-incendive "nC" (EN/IEC 60079-15)
Restricted breathing "nR" (EN/IEC 60079-15)
Encapsulation "m" (EN/IEC 60079-18)
Enclosure (dust) "t" (EN/IEC 60079-31)
These standards ensure that equipment and systems are designed, manufactured, and operated in a manner that minimizes the risk of ignition and subsequent explosions or fires.
To be informed about our
latest news 
subscribe to our newsletter