The KIWI Agriculture Sensor is is the ideal solution to streamline and simplify the collection of key soil and environmental metrics for crops, residential and commercial lawns and gardens and golf courses.The device provides a straightforward and easy to deploy solution for soil moisture and temperature, air temperature and humidity, and outdoor light monitoring. Enjoy increased crop yields and decreased operating expenses with the deployment of this versatile device. The KIWI utilizes a ruggedized IP-67 enclosure for use in the most challenging outdoor environmental conditions. An integrated C-Cell LTC battery provides substantial battery life up to 10 years with a battery status indicator for easy reference.
TECHNICAL AND FUNCTIONAL SYSTEM SPECIFICATIONS
Where should I mount the device for optimal results?
Clover should be mounted in an area shaded from the sun to avoid the effect of solar loading, if ambient temperature readings are important to the user. Aside from this it can be placed anywhere soil moisture and temperature readings are desired. Kiwi is best mounted on a pole for stability, and ideally one foot away from where the watermark and thermistor are buried in the soil. A bracket is included on the bottom side of Kiwi for this purpose.
Why are there multiple mounting variants?
There are two variants depending on what the use case is for the sensor. The watermark and thermistor that are used with the Kiwi model allow for soil moisture and temperature to be measured at a depth of > 4". Clover has 4" probes and can be placed directly in the soil surface for greater convenience.
How do I add my sensor to a Network Server?
Refer to the TEKTELIC support portal; under "Applications", there is a "TEKTELIC Quick Start Guide" with instructions for how to add an NA or EU sensor to the TEKTELIC network servers.
Why is my sensor sending more packets than the Network Server receives?
This can happen when a sensor is used with an 8-channel gateway, but is not configured to use only 8 channels. The sensor needs to be configured in the "Advanced Network Settings" on the TEKTELIC NS, as shown below: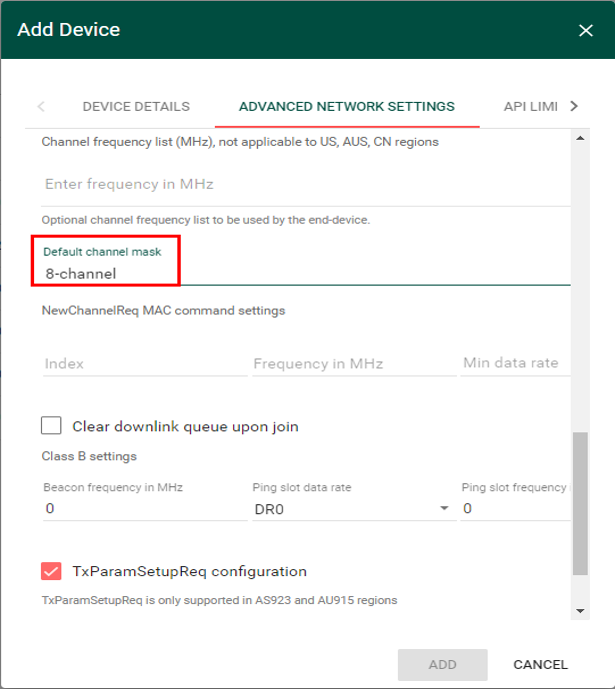 Why does my LoRa LED blink periodically?
The LED indicates when radio transmission (Tx/Rx) has occurred.